The Carused.jp Japanese Used Car Auction

See over 140,000 cars for sale
There are more than 190 different Japanese used car auction houses Throughout Japan with over 140,000 Cars listed daily. These auction houses are only accessible to local used car dealers, until now! As a user of Carused.jp we provide you access to all these used car auction houses, FREE of charge!
Here are the three main benefits in choosing Carused.jp Auction Service
Benefit 1 - FREE TO USE:
You are free to try out the full fuctionality of our auction tool until you decide to bid on a car!
Benefit 2 - 100% Refundable Deposit:
Our auction deposit is 100% Fully refundable! Refund it at anytime you want!
Benefit 3 - Quick and Reliable Support:
Our team is standing by to support you as fast as we can. We can support you in English, French,Portuguese, Tagalog, and Japanese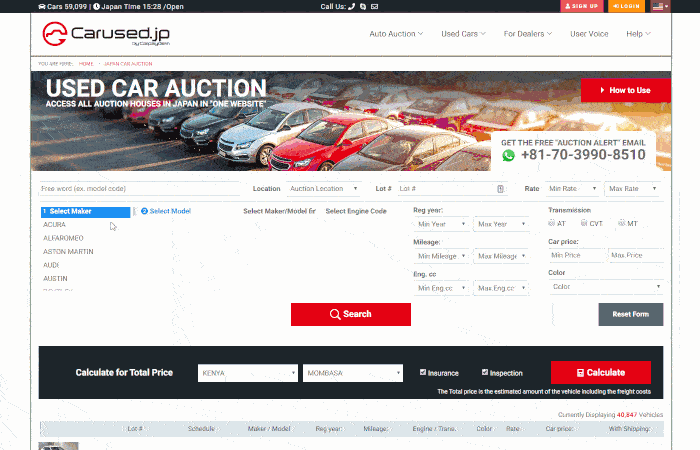 What is the Japanese Used Car Auction?
Most private users and brokers in Japan sell their cars through the Japanese Used Car Auction which has more than 190 auction houses throughout Japan. The Car auction is where majority of the used car dealers you know get their stocks from. It is the biggest used car "shopping mall" as you might say, but are only accessible to local used car dealers.
At Carused.jp, you can access this tool! You can see all cars from all the auction houses in Japan on one place with more than 140,000 cars listed weekly at our website! you can see the original prices of the cars even before dealers put a margin on it. You can decide on how much is your budget for the car based on it's Market price. You can make more profit by buying the cars at a wholesale price!
How to Use the Carused.jp "Japanese Used Car Auction" Tool
Auction Step 1: Search for a car
The Auction has over 140,000 vehicles to choose from, you can find anything you want and need. From Toyota Hiace Van to top condition Nissan Skyline.
Enter your Country, Port, and Options such as insurance or inspection and click on the calculate button, the calculated price will then show beneath the car price - This total price is the total estimated price which includes the vehicle, freight cost, insurance/inspection and service fee.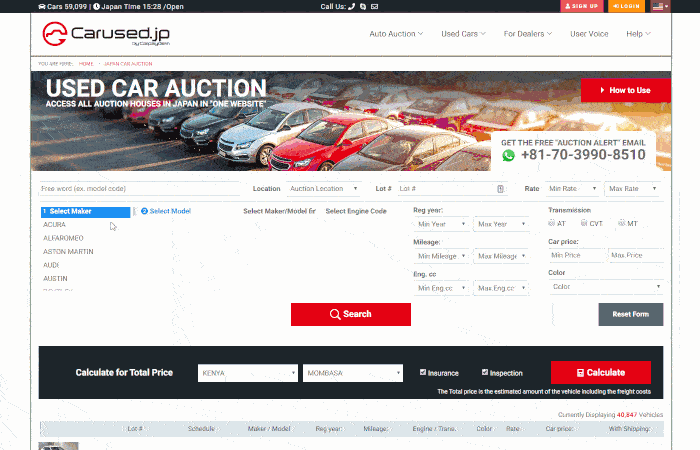 Auction Step 2: Make a "Refundable" Security Deposit
The deposits are 100% Refundable No matter what the result of the auction is, we won't touch your auction deposit. You can use it for another auction, apply a refund or use it to pay for another car. it is all up to you!
| | |
| --- | --- |
| USD $1,000 Deposit | Bid up to $10,000 in total price of Vehicle(s) |
| USD $2,000 Deposit | Bid up to $20,000 in total price of Vehicle(s) |
| USD $3,000 Deposit | Bid up to $30,000 in total price of Vehicle(s) |
| USD $4,000 Deposit | Bid up to $40,000 in total price of Vehicle(s) |
Auction Step 3: Place your Bid
After making a deposit and once you have chosen a vehicle that you want, click on the "Request to Bid" button and enter your "maximum bid amount" for that vehicle. Please the maximum budget and not the minimum since we will only bid for the vehicle up to "your budget" only.
Note: Auction bidding is by proxy, so even if you bid a large amount, you will only pay just over what the next highest bidder was willing to pay. For example You are prepared to bid a maximum of 300,000 yen on a car and the next highest bidder is 200,000 yen. You then win the car at 201,000 yen and not at 300,000 yen!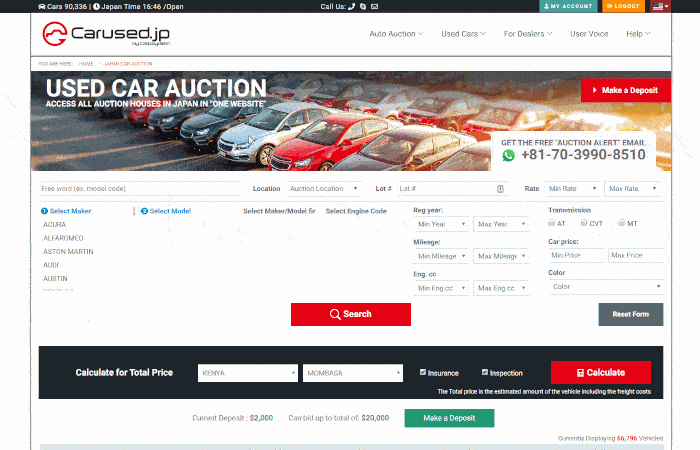 What happens after the auction bidding process?
You have placed your bid on the vehicle you like, What happens next? in this section we will explain the next steps to take after the auction has finished. Our service for you does not end after the bidding. We will guide you through all the steps until you actually receive your car at your port! Here is what you have to do after you have placed your bid on a vehicle.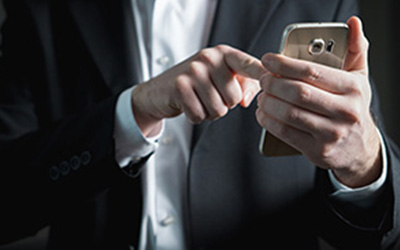 After Auction Step 1: Wait for the Reults
You will be notified by email or whatsapp about the results of the auction.
Note: The actual bidding process will be done by us and we will do our best to get the car at the lowest price possible from the auction. We will follow you're maximum budget, please set a maximum budget as the auction process only takes seconds to complete and there won't be enough time to reconsider your budget on the same day as the auction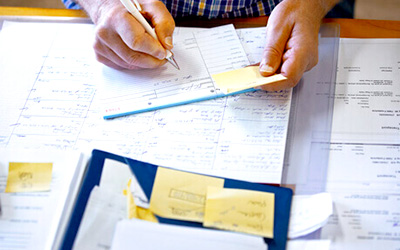 After Auction Step 2: Pay the Invoice for the Car
Upon winning the aution, We will be sending you an invoice for the total price of the vehicle, please settle the amount within 48hours (2days). You can choose to refund your deposit or retain it and use it for your next bid after all balance has been settled.
In some cases that we've lost the auction, Rest assured that your deposit is 100% intact and refundable, you can choose to refund it or use the deposit for the next auction. The choice is entirely up to you!
After Auction Step 3: Clear your car at the port and claim!
After we have confirmed the payments on our side. We will start the loading of your vehicle and send the necessary documents for you.
Congratulations! After you have cleared with the customs on your country/port. It is time to pick up your car!
How to Check the Auction market price / Past auction results
What is special about the "Past Auction Results"? By seeing and knowing the past results of the auction, you can check the market price by yourself and make an informed decision on how much you would like to bid for that specific vehicle! This is also a FREE feature for members of Carused.jp. Signup for FREE or Login now to access this!
How to Check the Auction past Results - Checking the market price
Duration: 1:30
Our Customer's Voice: Success in Using the Auction
FAQs About the Japanese Used Car Auction
Top Foreign Car Brands Exported from Japan
Top JDM Car Brands Exported from Japan