How to buy from Online Car Auction with us
Many good reasons to work with us
1 We always describe full condition on every car you ask
2 We bid all the cars you need at all Japanese auction places without any limit and at no cost
3 We can provide more pictures when available, we can take more depending on auction venue
4 We can indicate the average price for each car
5 We can do an additional inspection for you if you ask
6 After a successful bid, we ship the car in no time to your port
7 We are the fastest auction agent on the web
8 We offer a competitive agent fee
9 The deposit we require is the lowest on the web and can be used as guarantee to purchase not one but all the cars you need and is refunded at 100% when asked

Getting and sharing information with the customer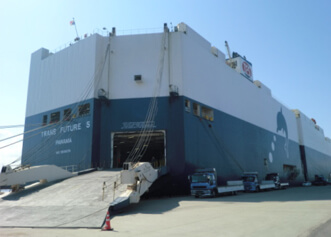 Around 140,000 cars per week are displayed and sold at online auction in Japan. Our website membership allows client to see all of them along with photos and auction inspection sheet.
If you have interest in any car we will then arrange for someone to go and inspect it in person. All the information is then sent to the buyer for his consideration. If the buyer can search cars in the auction with Carpaydiem, he can also indicate all his desired specs along with budget for us to search on his behalf. We can find cars not only from auction but also from our 2,500 local dealer network.
Advice and experience
Carpaydiem is always happy to advise customers on average sales price or requested cars and what a workable budget might be. If in our opinion customers want to bid too much on a car we will inform him, as it is okay to miss one car rather than overpay when another similar cars could be bought for less or better condition ones could be found for the same amount of money. In the same way, if a customer wants to bid on a car which we believe is of substandard condition we would caution them first.
We also provide advice on how common or rare a car is, according to features and condition and can look up historical data on cars at recent auction to help make a decision on how much to bid.
The bottom line to remember is that Carpaydiem is here to help customers and hold their hand through the auction process, it is not as scary as it seems if we are here to help you and we are always happy to answer questions. We will never act on a car without your consent, and we will make sure that you don't accidentally buy a poor condition, unsuitable, or overly expensive vehicle.
Steps to follow to buy in the online car auction
1 Contact us directly and let us know the car you are interested in and the budget you have
2 We give you more information about cars available, price, average condition...
3 Pay the 1000$ deposit to be ready to get cars from the auction with us
4 Indicate all the cars you interested in within the available ones on cardealertools
5 We describe full condition and give average price
6 Indicate your maximum bidding price on each car you want to get
7 We bid the cars for you and give result for each
8 If successful, all details are sent to you along with an invoice to be paid within 48 hours