Hino Dutro - A Reliable Truck from Japan
Hino Dutro is a popular model overseas. It is used all over the world in a wide range of purposes, from flat bodies to aerial lift trucks. This time, we will explain Hino Dutro in detail.
Hino Dutro, overwhelmingly popular! What is the secret of its popularity?
The reasons are its excellent durability and comfortable running performance! Dutro is an abbreviation for "Dramatic & Urbane Transport Offer" and means "a truck that offers dramatic and sophisticated transportation"!
It is known as a highly reliable truck because it has high durability and the least amount of damage so that it reduces maintenance costs and saves unnecessary labor to focus on safety performance.
Unnecessary vibration is suppressed, and comfortable running performance can be expected. By improving fuel efficiency from two perspectives: vehicles and engines. It succeeded in reducing the necessary expenses!
The current lineup includes cargo, double cap, dump truck, and mixer types, which can be used according to the purpose. Fuel efficiency has been improved from two perspectives: vehicles and engines. It is designed to be friendly to environmental problems such as global warming and also for drivers who want to have a smooth driving.
Safety performance
Equipped with functions such as forward erroneous starting prevention function, low-speed collision avoidance system, and pre-crash safety (PCS), the driver can drive for a long time with a sense of security.
Comfort performance
A comfortable seat, a combination meter that improves visibility with a functional layout, a steering switch that enables various operations while holding the steering wheel, etc. It is equipped with functions designed to make it easier for drivers to use.
Body type
Dutro offers a lineup refrigerated van and mixer truck in addition to cargo, double cab, root van, dump truck, and box body! Various body type can be selected according to the usage environment.
Popular Dutro Model
There are various models of Dutro depending on the purpose.
The following models are popular in various areas all over the world, from Oceania to Africa.
Dutro series by loading capacity
| | |
| --- | --- |
| Maximum loading capacity - 2 ton | Model code |
| Standard cab/low deck | XKC605-TQNMC |
| Standard cab/ semi-long chassis/ low deck | XZC645M-TQMMB |
| Standard cab/ long chassis / low deck | XZU650M-TQMMB |
| Wide cab/ long chassis/ low deck | XZC710M-TQMMB |
| | |
| --- | --- |
| Maximum loading capacity - 3 ton | Model code |
| Refrigerated van | TKG-XZU720M |
| Dump truck | PB-XZU311T |
Dutro's history~a track loved for over 20 years~
"Dutro", a small truck that has concentrated the latest technology.
There are reasons why it has been driven by many drivers for as long as 20 years. It is because it has high functionality and reliability!
In 2003, a hybrid vehicle was introduced, and in 2011, a full model change was carried out. So far, it has been evolving depending on the times.
Let's take a quick look at its history.
Dutro's earlier model, Ranger, was released in 1978. Then, in 1999, the first generation Hino Dutro was jointly developed with Toyota as a small truck with a loading capacity of 2 tons, which has high market demand.
After that, it had several minor changes, but in 2011, it carried out a full model change for the first time in 12 years.
The second-generation Dutro with five types of diesel engines has been released, which has drastically updated the high-pressure common rail(CR)fuel injection system and DPR(Diesel Particulate Active Reduction System). It also has improved fuel efficiency and the cleaning of exhaust gas.
In addition, new options such as a collision-avoidance system (with a pedestrian detection function) and a lane departure alert, which are the first to be adopted in a 2-ton class in 2016, are equipped as standard options on some vehicle models with a vehicle total weight of fewer than 5 tons. Some new options are adapted and the functions have been improved.
Dutro has undergone various improvements since the first generation and it provides consistent service in its focus on safety performance and drivability.
Models and Engines
Models
Hino Dutro Cargo Truck (flat body/ van/ wing type/ refrigerated van)
Standard Cab
Widecab
SJG-XKC605M-TQUMC
SKG-XZC710M-TQMMB
SKG-XZC645M-TQMMB
SKG-XZU720M-TQMMB
SKG-XZU650M-TQMMB
SDG-XZU730M-TQFRD
Hino Dutro Dump truck
SKG-XZC610T-TWMMB
SDG-XZU700X-TMFSD3
Engines
Diesel engines other than diesel hybrid vehicles are 4,009cc in-line 4-cylinder and inter-cooled turbo engine N04C type engines.
4 models of UQ, UP, UN, and UM are set for vehicles with a carrying capacity of 2 tons. Details are as follows.
General purpose engines
N04C-UQ: 132KW(180PS)/2,800rpm, 480N.m(49kgf.m)/1,400rpm
N04C-UP: 110KW(150PS)/2,500rpm, 420N.m(43kgf.m)/1,400rpm
N04C-UN: 100KW(136PS)/2,500rpm, 390N.m(40kgf.m)/1,400rpm
N04C-UM: 85KW(116PS)/2,500rpm, 325N.m(33kgf.m)/1,400rpm
Comparison between Dutro and Elf!
They are similar in size and engine displacement, but when compared to two models, the recommended points differ as follows.
The price is slightly higher for Dutro, but it may be understandable considering it has higher durability and safety.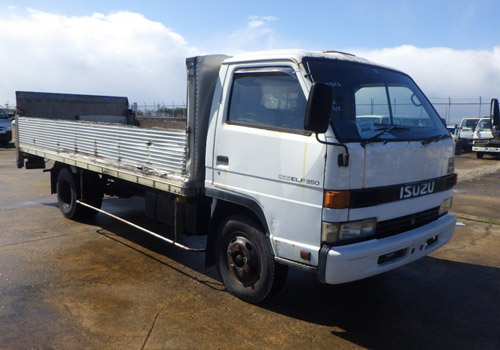 Isuzu Elf
The characteristic of Isuzu Elf is that it has excellent diesel engine technology. As a result, there are many people who say that "engine noise and vibration do not cause stress". One of the good points is the diverse lineup that suits various purposes, and in addition to a double cab, E-cargo, and Diesel hybrid, "there is also the CNG series."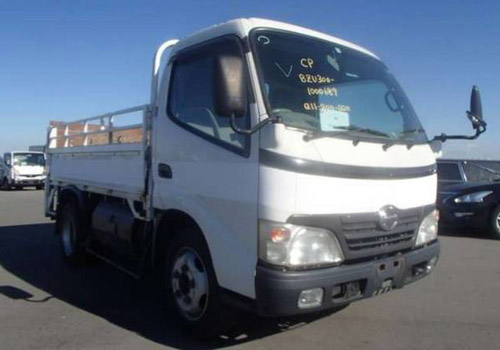 Hino Dutro
If you seek high durability, choose Dutro! Hino's trucks have high durability that are used in the world's most radical racing, Dakar rally, Unnecessary vibration is suppressed and running comfortability can be expected. Furthermore, although it is a vehicle with a loading capacity of 2 tons, the minimum turning radius is 4.4 m, which makes it possible to make a small turn like a light car, It is a big point that the latest technology is introduced.
Various body types according to the purpose!
FAQ
It offers a smooth ride! Dutro uses a "high-rigidity frame" that ensures high torsional rigidity in preparation for use in severe conditions during mounting. By suppressing vibration, it achieved not only high durability but also a comfortable ride.
This is a very nice point for drivers who often drive for a long time!
Realizing low fuel consumption and contributing to business! In 2003, the first hybrid car of a 2-ton truck, the Dutro Hybrid, was launched. A clutch is installed between the hybrid engine and the HV motor. The clutch is controlled according to the driving to use energy efficiently. As a result, we have succeeded in suppressing fuel consumption by using energy efficiently. It is designed to reduce fuel consumption and be environmentally friendly.
Top image credits to wikimedia