[Toyota Used Harrier]Even a used car is very popular! Three popular reasons for HARRIER's popularity!
Three popular reasons for HARRIER's popularity
The three reasons for the popularity of the Japanese brand TOYOTA, HARRIER, are:

Excellent luxury
Riding comfort
Good accessibility of spare parts even in overseas!
The first model of the Japanese Toyota brand, Harrier, was released in 1997 and was sold as a sister model from the Lexus series until the third generation.
However, from the 3rd generation Harrier, it has become independent from the Lexus series and has become a luxury SUV with a sense of luxury different from Lexus.
The glossy body reveals a luxurious feeling, and the interior looks more expensive as if it were crafted by artisans. You can enjoy a luxurious design and appearance from the exterior and interior.
Harrier was developed as a crossover SUV that has the ride quality and comfortability of a luxury sedan with the stability and powerful driving performance of an SUV.
Harrier, which is a pioneer in a new market as a crossover SUV, has luxury and comfort and is very popular only in Japan but also overseas.
Therefore, this time we will introduce the reasons for its popularity and detailed information on Harrier as the luxury Toyota car. And the difference from the sister car Lexus RX is explained as well.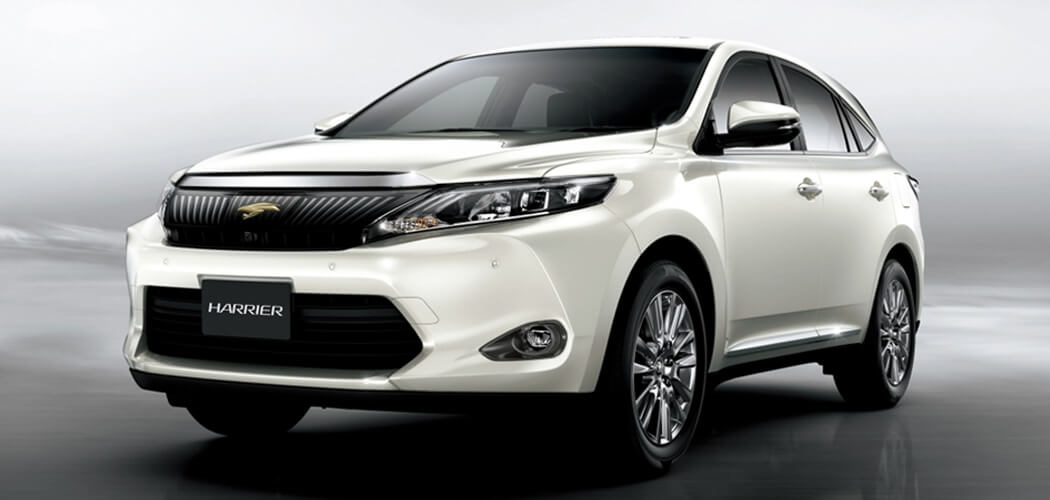 Contents
1. The three reasons for Harrier's popularity!
Harrier is a luxury car that is popular not only in Japan but also overseas. Harrier imported as a Japanese used car has a high quality, and you will definitely be satisfied with it!
The three reasons for Harrier's popularity are

A sense of sophistication and luxury
Ride comfort with high operability and stability
Easy access to spare parts

Therefore, from here, we will introduce the reasons for the popularity of Harrier in detail.
A sense of sophistication and luxury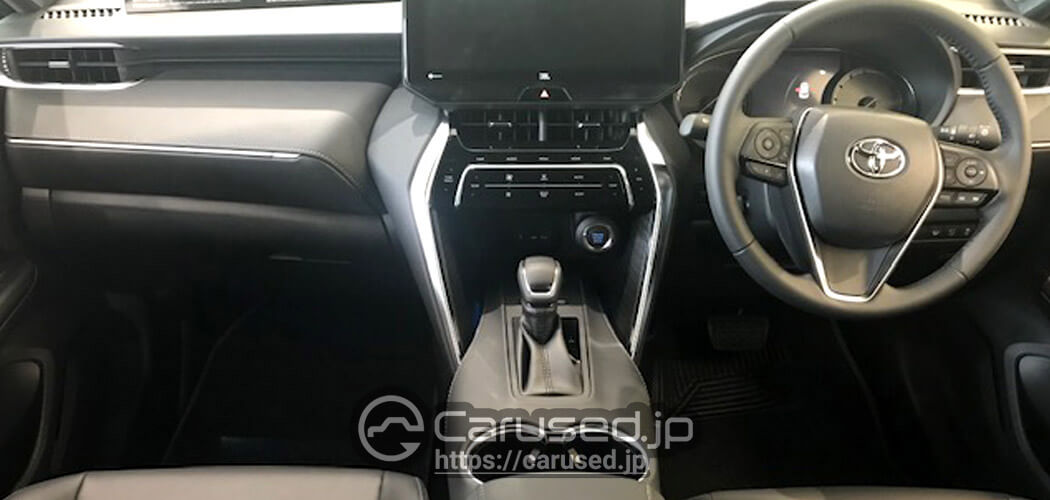 Luxury features
The Harrier's exterior is designed with the concept of "elegant city" and features a simple, elegant, and luxurious appearance without unnecessary decoration.
In the interior, genuine or synthetic leather is used for the steering wheel and seat cover material of all grades.
Not only the high quality of the materials, but also the unique colors such as chic black, deep Bordeaux, and dark saddle ton that reveal a luxurious feeling are available for hybrid & gasoline vehicles.
The interior has a luxurious feel as if it were crafted by artisan and has a high sense of sophistication like no other.
Not only is it luxurious in exterior and interior, but also it adapts the "2L direct injection turbo engine" that starts up when the engine reaches around 1,600 rpm, but it is quiet below 2,800 rpm, and beyond this range, the acceleration increases with the increase of rotation. With the "Dynamic torque control 4WD", it achieves highly stable driving performance even on rainy days.
The trunk space is large enough to hold four golf bags and can carry a large amount of luggage.
Excellent ride comfort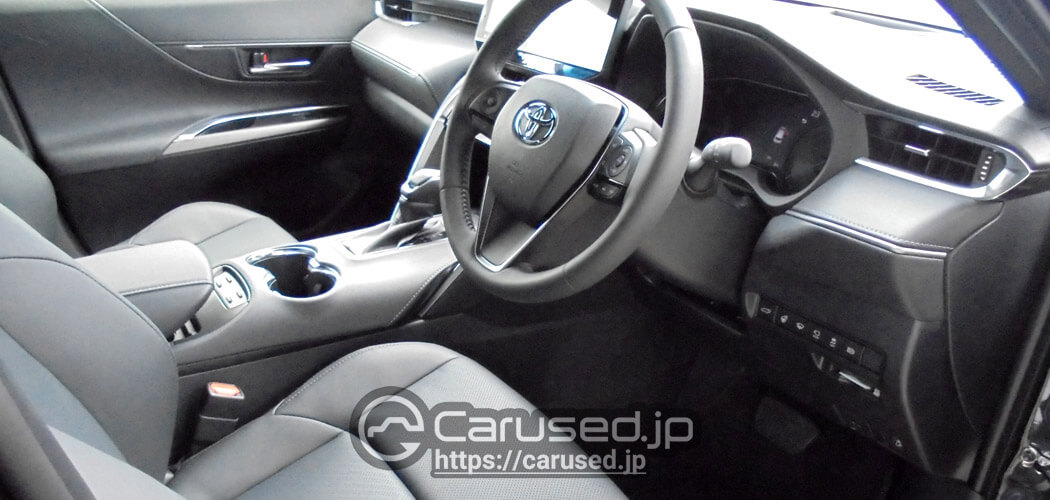 Harrier is highly regarded worldwide not only because of its high-class appearance but also because of its excellent ride quality.
Normally, when the speed is accelerated, the less stable it becomes, but since Harrier has a performance damper at the front and rear ends of the side members, it is highly stable at high speeds and ensures steering stability.
In addition, a vibration responsive shock absorber that changes suspension movements according to the driving conditions on the road has been adopted, ensuring excellent steering stability, and reducing major shakes even on unpaved roads. You can experience a comfortable ride.
Also, by turning on or off the engine switch and power switch and removing or wearing the seat belt, the driver's seat automatically slides to the rear when you get out and moves to the set position when you get in, so getting in or out of a car is very smooth.
Since the vehicle height of Harrier is high, the driver's seat has a very wide visual field. Even if you drive for a long time, you will not get tired easily, which will also help reduce the fatigue of the driver.
Easy access to spare parts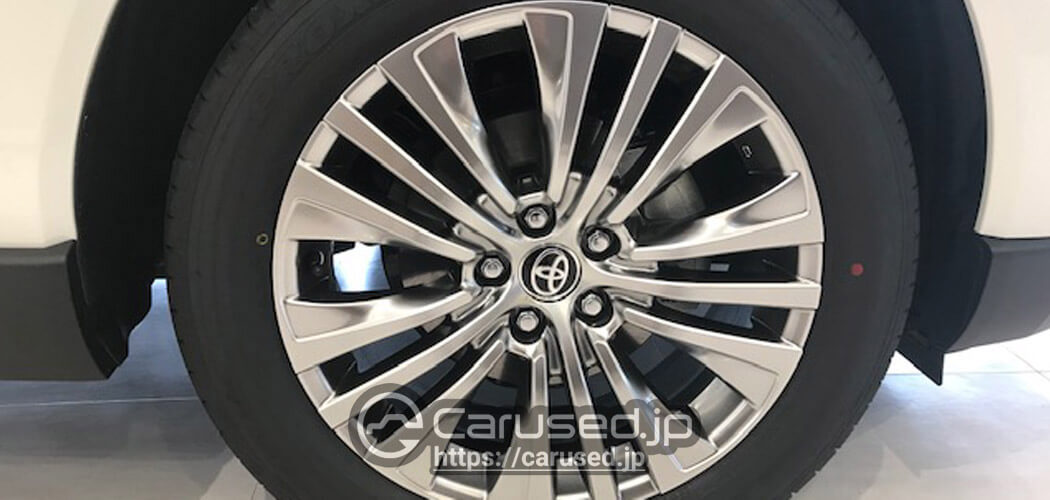 Even if a Japanese car, Harrier, is imported from Japan as a used car, some people might think that parts may not be available required for a breakdown.
The third-generation Harrier, which was no longer in the same series as Lexus RX, was initially sold only in Japan, but later started to be officially imported into Singapore and Malaysia only for late-stage turbo vehicles.
The late-type turbo car of the 3rd generation Harrier has a lineup of advanced packages in the 3rd grade in the previous model, but the grand grade has discontinued, and PROGRESS has been added to the highest grade.
In addition, while the engine was set to hybrid and 2L gasoline NA in the previous model of Harrier, turbo cars are added to perform power-up.
Only late-model turbo cars of Harrier will be officially imported overseas, so you can easily purchase Harrier parts overseas at regular stores or online.
You can buy used spare parts cheaply online, and you can choose various parts such as engines, transmissions, drive trains, tires, and wheels.
2. What are the popular model codes for Harrier?
At our company, Harrier is sold well in the following countries, and the most popular model code is ZSU60!
The first reason for its popularity is its toughness!
Of course, when you buy a car, you want a very reliable car! Despite its luxurious car exterior, Harrier is strong on rough terrain. It also has good fuel efficiency and achieves a highly stable driving performance.
However, if anything should happen, you can get parts for the ZSU 60 type in Malaysia for the repair. That is also one of the reasons why we can import used Harrier from Japan with a sense of security.
The second reason is its fashionability that can be used in any situation!
Harrier can be switched from 2WD to 4WD, and it can be used both for city riding and outdoor activities! It's great that you can enjoy the pleasure of driving while having the feeling of luxury in the city and the enjoyment that you can use in outdoor activities in the suburbs!
ACU30 is a very popular model code for African and Caribbean customers. This model code is particularly popular in African countries or its high-cost performance and durability.
Countries with a high sales prospect
1st place (by far the best): Malaysia
2nd place: African countries
3rd place: Oceania countries
3. Differences between LEXUS RX and HARRIER
Harrier, which shares the same platform with Lexus RX, has existed as a sister model of each other until now, and it was almost the same until the second generation.
However, from the 3rd generation Harrier, which started selling in 2013, they were not the same cars but have existed as completely different cars.
From here, we will introduce the differences between Lexus RX and Harrier, which have been almost the same until now.
Differences between exterior and interior
Comparing Harrier and Lexus RX, the exterior of Lexus is slightly larger.
Also, in terms of design, Harrier has a luxurious design with a high-class feel, while Lexus RX has a sporty design that creates a mature atmosphere.
Differences in ride comfort
Lexus RX can provide a splendor riding comfort.
Lexus RX has a long 130mm wheelbase, and depending on the grade, it achieves a riding comfort due to the balance between 18- to 20-inch tires of "235/65R18" and "235/55R20" and the vehicle weight and body.
For the suspension of Lexus RX, the front and rear roll stiffness balance has been reviewed to improve steering stability.
But Harrier is as good as Lexus RX.
Compared to Lexus RX, Harrier is characterized by its solid suspension, and by matching with the specific type of tires, for example, all grade has 18-inch tire of "235/55R18" for turbo cars, 17-inch tire of "225/65R17" for elegance hybrid and gasoline cars, and 18-inch tire of "235/55R18" for premium and progress, you can experience a more smooth driving than Lexus RX.
Harrier's "Elegance G's" is also a sports tuning grade based on elegance and features a sports suspension that reduces the overall height by about 35 mm.
Differences in running stability
Lexus RX strives for good handling and ride comfort by making the framework highly rigid, for example, expanding the number of spot weld zones and the range of adhesion of structural adhesives in order to suppress body deformation during turning.
The characteristic of this system is that it adopts a platform closer to the center of gravity of the engine while optimizing the pre-roll of the hub bearing of the wheel to improve the ability to respond to steering operation.
In addition, the suspension is being redesigned to balance the rigidity of the front and rear rolls, aiming to improve steering stability.
This achieves a ride quality in which a driver hardly feels fatigue, but Harrier has a higher level of driving stability.
Harrier redesigned the spring constant of the coil spring and optimized the bushing and friction characteristics to achieve both steering stability and riding comfort.
By installing performance dampers in the front and rear widths of the side bumpers, it can prevent infinitesimal deformation of the body and improve the composition roller of the vehicle to ensure traveling stability at high speed, high straight-traveling stability, and steering stability.
In addition, with S-VSC + dynamic torque control 4WD cooperative control, suppression of steering, suppression of braking, and driving force control and 4WD perform to control in cooperation with each other, so that a car can achieve stable driving even on slippery conditions such as rainy days.
Differences in safety equipment
 
Lexus RX
Harrier
Preventive safety package
Lexus Safety System
Toyota Safety Sense
Ensuring safe parking
Incident command system(ICS)
Collision avoidance system
Precrash safety system
Approaching vehicle/pedestrian detection apparatus
VEHICLE PROXIMITY ANNUNCIATOR DEVICE
Following travel
Radar Cruise control
The preceding vehicle start notification
Traffic Movement Notification(TMN)
Early notification of lead vehicle braking hard
Emergency brake signal
Safety of the following vehicle
Blind spot monitor
Panoramic view monitor
Display of road sign
Road Sign Assist (RSA)
Lane departure prediction
Lane Tracing Assist
Lane departure alert
Driving assistance system
ITS Connect
Ensuring nighttime visibility
Adaptive High-beam System
Early detection of pedestrians at nighttime
Automatic High Beam
Preventing sudden start and sudden acceleration
Drive-Start Control
Airbag
SRS airbag system
The "Lexus Safety System" installed in Lexus RX and the "Toyota Safety Sense P" installed in Harrier have basically the same functions.
Lexus RX and Harrier have both high safeties, for example, "pre-crash safety" that detects pedestrians and avoids collisions, and "radar cruise control" that follows the vehicle while keeping the inter-vehicle distance.
As the safety performance of Lexus RX, there is a "Traffic Movement Notification(TMN)" to notify the start of the preceding car and safe driving support "ITS Connect".
In Traffic Movement Notification(TMN), the movement of the preceding vehicle is detected by the millimeter-wave radar and the monocular camera, and the color head-up display and the multi-information display alert the stop/start of the preceding vehicle.
With ITS Connect, information such as over-the-horizon and signals is communicated directly between roads and vehicles, or between vehicles, and the color head-up display or multi-information display notifies the driver with a buzzer sound.
Functions of Harrier include a " vehicle approach notification device" that notifies the driver of approaching pedestrians and bicycles and an " Emergency brake signal" that informs the following vehicle when a driver applies a sudden brake.
The vehicle proximity notification device automatically informs pedestrians of the approach of the vehicle by sound during the EV traveling from the start with approximately 25km/h speed, or when backing a car up.
This sound can be turned ON/OFF by operating the temporary stop switch, and when the hybrid system is restarted, it will automatically return to the state in which the sound is made.
The "emergency brake signal" can reduce the possibility of rear-end collision due to sudden forward travel since Hazard lamps will automatically flash and alert the following vehicles.
4. Previous models and model codes for Harrier
Harrier continues to exist as a pioneer of luxury crossover SUVs to this day since the first-generation Harrier was launched in 1997.
Therefore, from here, we will introduce the previous models and model codes of Harrier.
The first-generation Harrier (1997-2003)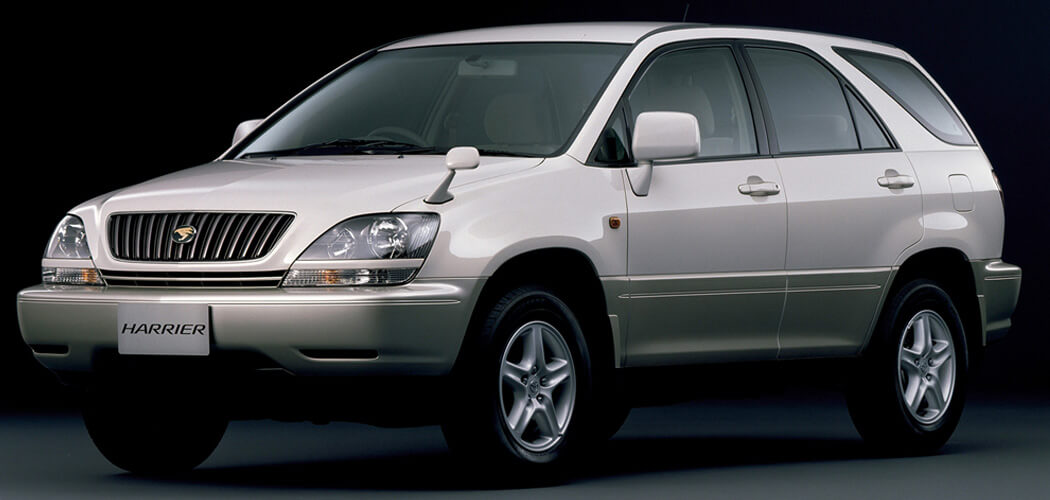 Launched in December 1997, the first-generation Harrier was developed based on Toyota's CAMRY GRACIA platform.
Based on the concept of "WILD but FORMAL", it has an SUV type body while being on-road, yet it gained attention for its design with a luxury feeling.
The first-generation Harrier has a powerful and impressive exterior and an interior with an elegant silhouette and high-quality. It uses a 4-wheel independent suspension system to achieve high running performance and a comfortable riding quality in various fields.
Vehicle model code: GF-MCU10W-AWPGK, GF-MCU15W-AWPGK, GF-SXU10W-AWPGK
The second-generation Harrier (2003-2013)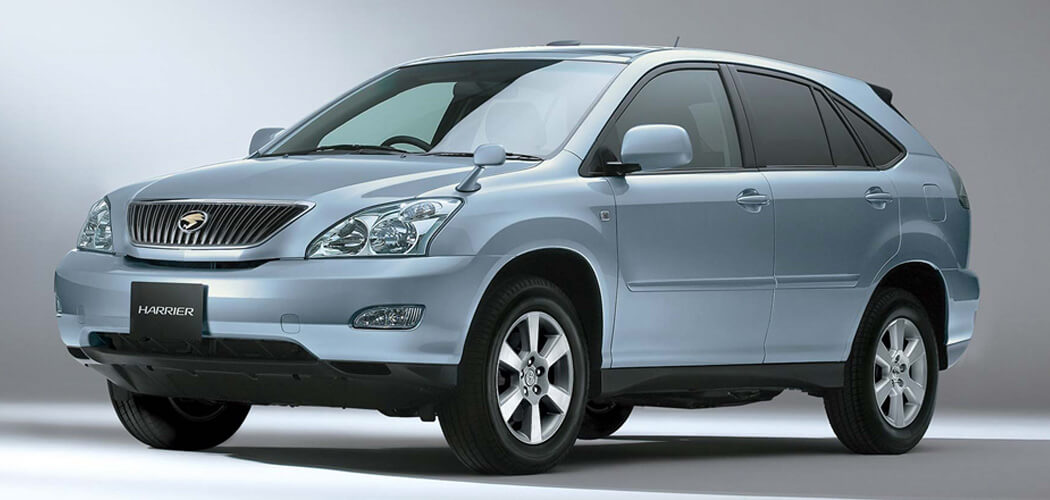 The second-generation Harrier released in February 2003 is based on the concept of a "new generation luxury SUV" and has improved handling performance, comfort, and safety performance compared to the first-generation Harrier.
At the same time, the exterior, interior, and equipment have been improved.
Like the first generation Harrier, it was developed based on FF and full-time 4WD model, and the drive system also has a combination of 220 hp 3.0 LV 6 cylinder DOHC + 5 speed AT with a continuously variable valve timing mechanism and 160 hp 2.4 L in-line 4 DOHC + 4 speed AT as a lineup.
Vehicle model code: UA-MCU31W-AWAGK, UA-MCU30W-AWAGK, UA-ACU30W-AWPGK
The third generation Harrier (2013-2020)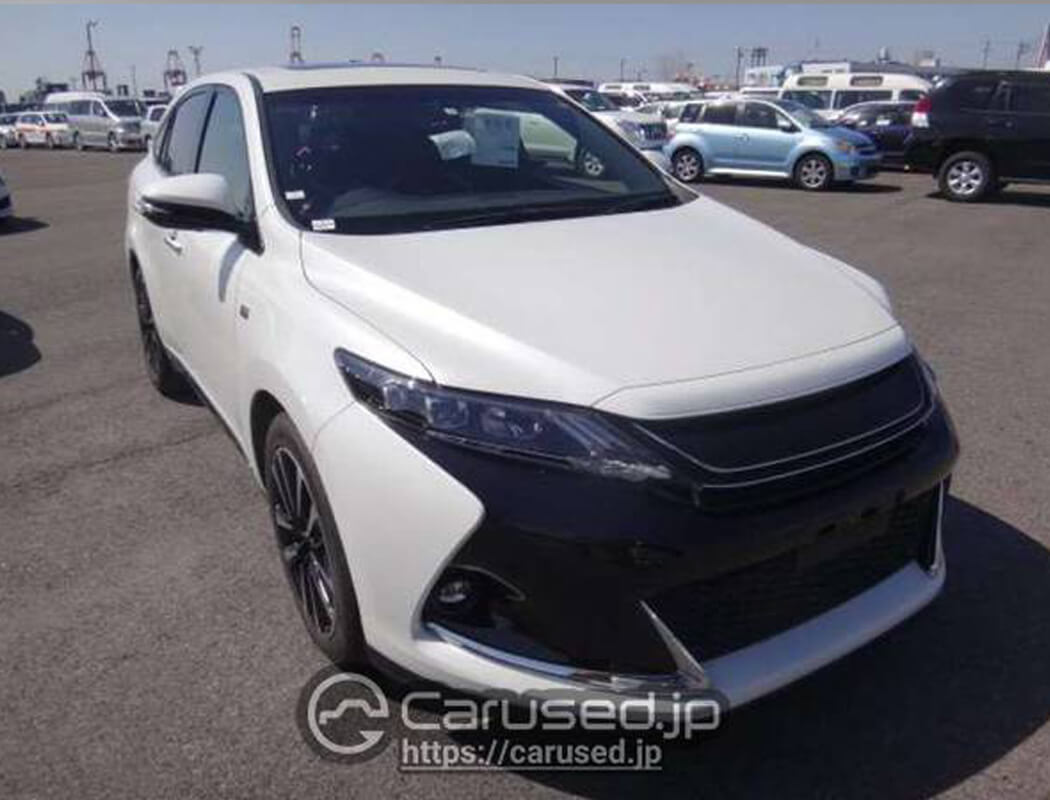 The current third-generation Harrier was released in December 2013 and was released as a model independent of the previous Lexus RX series.
Under the concept of "luxury, evolution, and new", it has been developed as a pioneer of high-class crossover SUV that continues from the first-generation Harrier.
In the 3rd generation Harrier, the engine to be installed was reviewed. For example, downsizing to the conventional 2.0L in-line 4-cylinder engine and the wheelbase were revalued. By shortening the minimum turning radius, it has improved the handling in the city.
In addition, by enhancing silence and enlarging the rear seat space and luggage space, the habitability and comfort of the interior have been significantly improved.
A flat and comfortable ride has been achieved by reviewing the suspension and changing the platform.
Vehicle model code: ASU60, ZSU60, AVU65W
5. Introducing the test drive report of Harrier!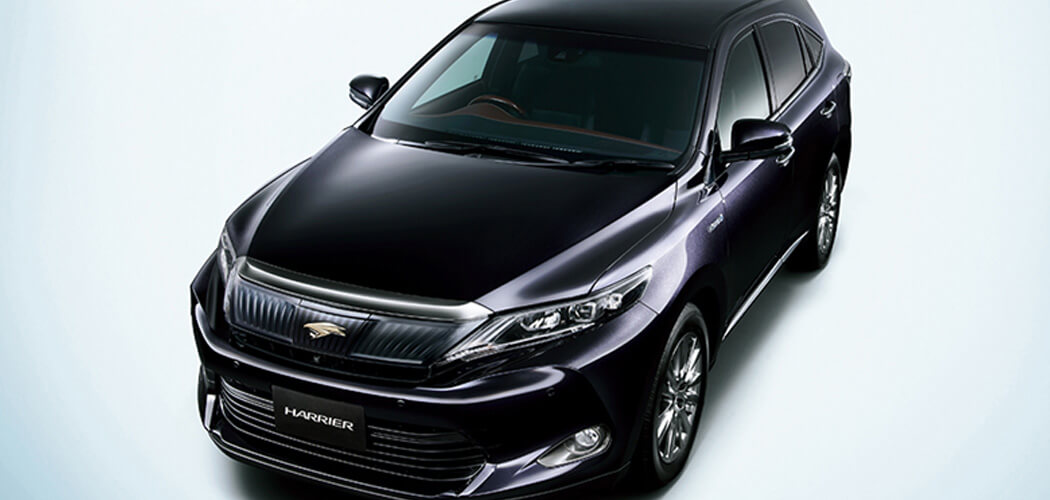 In terms of luxury, Harrier has a superior presence among SUV cars of other companies and has a slightly smaller body than Mazda CX-5 or Nissan X-Trail.
After having a test drive, the vehicle height was a little low, but it has a position higher than the height of eyes which gives a feeling of as if driving a sedan car.
There was no roof rail setting and no attachment of a mall to the wheel arches, etc. It strongly gives the impression that it is driving on-road.
Each part of the exterior is decorated with chrome silver, and the interior is more luxurious than SUVs of other companies.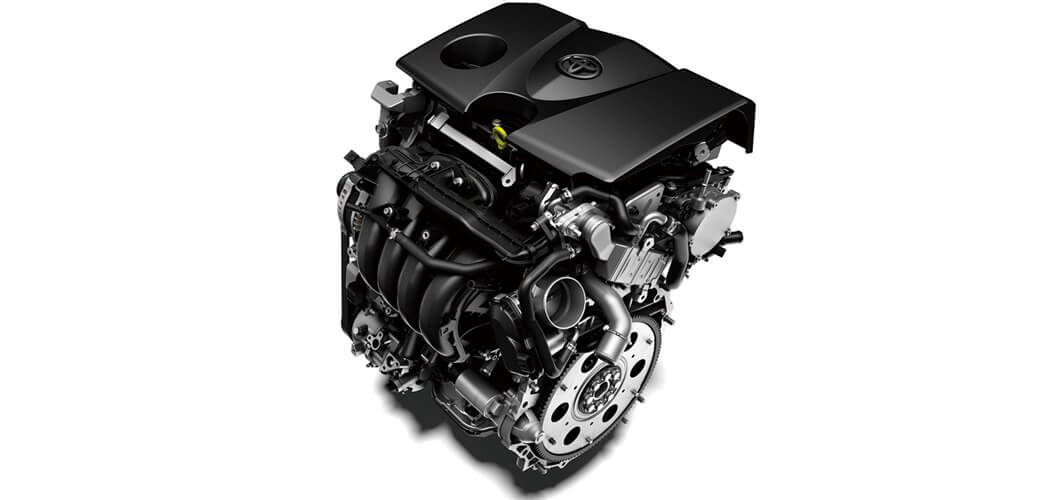 The power source can be selected between in-line 4-cylinder DOHC 2.0L "3ZR-FAE" gasoline engine and in-line 4-cylinder DOHC 2.5L "2AR-FXE" gasoline engine + electric motor hybrid.
In a hybrid car, you might particularly feel a delay in response when the accelerator is installed, but it is comfortable and quiet when driving on a general road.
Since it has a soft-spring suspension, it literally "rolls", so when a car is approaching corners, you will have to check the rudder angle. Otherwise, you need to turn the rear steering, and the suspension might sink deeply.
If it becomes necessary to turn a steering wheel sharply, it may have a big outer bearing ring.
Although it may require some time to be comfortable to drive Harrier, the 17-inch tires have excellent turning performance, and it drove well on narrow roads or alleys without problems.
Good handling characteristics make it easy to ride, and the foot area is wide enough to drive.
Harrier was not only comfortable for the driver but also had a "wide space" in which the family and friends in the back seat could spend comfortably.
I had a test drive with a friend with a height of 171 cm on the back seat, and my friend's foot area had space of about 3 fists to be able to sit very comfortably.
Also, the rear seats have enough headroom, so it does not give a cooped-up feeling even if you drive with four adult passengers for a long drive.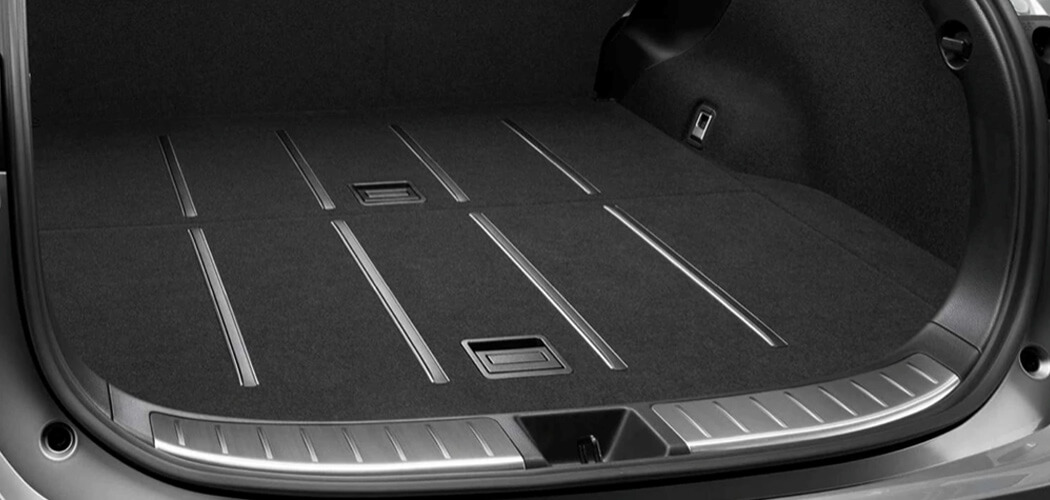 The trunk is wide enough to hold four golf bags, and the floor of the luggage room is relatively high, which prevents the tire house from overhanging, so the depth is long and an underfloor has a large space.
With a 4WD car, the driving on mountain roads will be a comfortable ride as an SUV, so you can feel a sense of peace in the road holding performance even if you drive the winding to the left or right at a speed of 50-80km/h.
You can carry many outdoor goods such as tents and barbecue stoves to enjoy the outdoor activities with your family and friends with Harrier that performs a comfortable ride on mountain roads.
6. Information on new Harriers to be released in 2020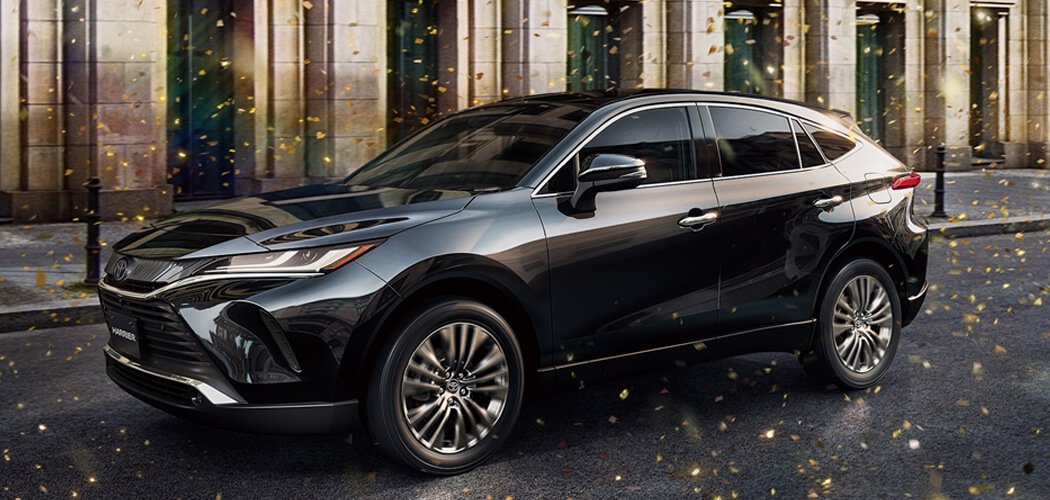 New Harrier to be released in June 2020 in Japan.
The advanced form of the new Harrier, which has inherited the luxury form the previous models, has characteristic of a design that impresses with luxury and uniqueness immediately.
The 19-inch tires and tire wheels will be standard equipment on higher grades Z and above. They are painted in high-brightness silver and have a simple but elegant shape.
Since the maximum size of the current third generation Harrier was up to 18 inches, the suspension will be stronger as the model becomes a new Harrier.
In addition, the new Harrier has evolved from the current 3rd generation and has a more luxurious design. Also, plating parts will no longer be in the upper grade, and a simpler and elegant design is adapted.
Although it will take some time to be sold as a used car, it will surely be as popular as the current Harrier. Please pay attention to the trend of the Japanese used car and Harrier in the future!
7. Engine model for Harrier
Here we will introduce the engine models from the first generation to the current model!
Please check which model and model code you want!
First-generation(1997-2003) SXU・ACU・MCU1#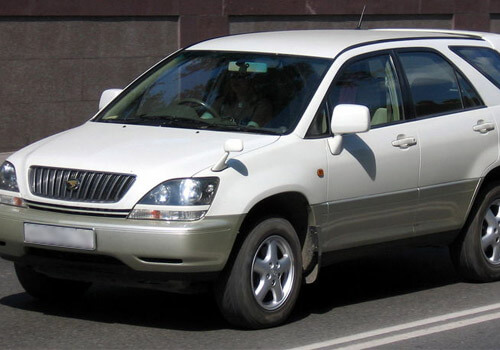 Engine model
5S-FE 2.2L straight 4 140PS
2AZ-FE 2.4L straight 4 160PS
1MZ-FE 3.0L V6 220PS
Vehicle Model
GF-MCU10W-AWPGK
GF-MCU15W-AWPGK
GF-SXU10W-AWPGK
Second-generation(2003-2013) ACU・MCU・GSU3#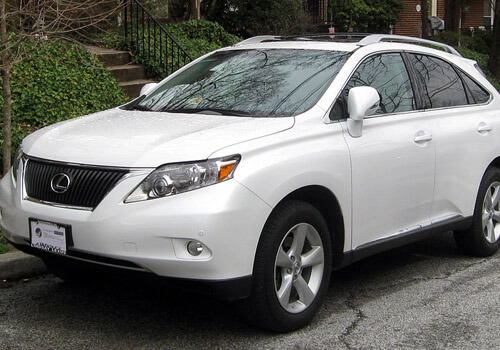 Engine model
2AZ-FE type 2.4L straight 4 160PS
1MZ-FE type 3.0L V6 220PS
2AZ-FE type 2.4L straight 4 160PS
2GR-FE type 3.5L V6 280PS
Vehicle Model
UA-MCU31W-AWAGK
UA-MCU30W-AWAGK
UA-ACU30W-AWPGK
Third-generation(2013 - 2020) ZSU6#W/ASU6#W/AVU65W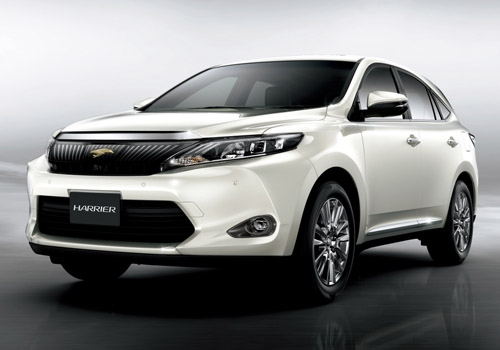 Engine model
2.0L gasoline:3ZR-FAE type:1,986cc inline 4-cylinder DOHC
2.0L turbo:8AR-FTS type:1,998cc in-line 4-cylinder direct injection DOHC turbo (June 2017-)
2.5L hybrid:2AR-FXE type:2,493cc in-line 4-cylinder DOHC

Vehicle Model
ASU60
ZSU60
AVU65W
8. What if you want to buy a good quality luxury SUV Harrier cheaply?
Harrier is a luxury car that costs a lot when it's new, but the best way to buy cheap is to get a used car.
There are many used car dealerships that sell used Harrier cars, but you can get a better-quality Harrier if you buy one from a trusted used car dealer.
Carused.jp stocks used cars in which ride comfort, exterior, and interior, etc. are in good condition, so you can get a satisfying Harrier.
The repair history can be disclosed if you contact us, so we guarantee the quality of a car.
You can also negotiate the price, so we can prepare Harrier according to your budget.
At Carused.jp, our experienced staff will sincerely support you. Please contact our professional Carused staff as we will make a proposal tailored to customer needs.
More about Toyota Harrier