Toyota Hiace Van - A van practical for everyday applications
Facts about Toyota Hiace
The Toyota Hiace is a van designed to handle "light to medium commercial needs". Since it was introduced in 1967, there have been many iterations if the vehicle, including a minibus, panel van, and MPV. Around the world, it has been used as a light commercial carrier, as an ambulance, as a taxi, and even as a touring van. We have created this detailed information guide to help you understand the Toyota Hiace, and pick out what best suits you.
In this Hiace guide, we shall look at the interior and exterior features of the van including the types and models available. We shall also look at the different engines including the popular 1TR, 1RZ series and other specifications. We shall also cover the reliability, practical everyday applications, and where you can get one within your budget.

What are the specifications of Toyota Hiace Van?
Power and space

Every Toyota Hiace comes with the power needed for commercial and commuter needs. The newer versions come with twice as much horsepower as the original Hiace. The cargo space increased.

Ground clearance

The Toyota Hiace has impressive ground clearance which is a desirable quality wherever you are. It is excellent at jumping over curbs and going over potholes. It is this height that makes the fourth generation Hiace the darling of African roads, being used in for different parts of Africa including Kenya and the DRC.

Reliability and maintenance

As with all Toyota vehicles, the Hiace reliability is exemplary. It can take a lot of punishment from the road and elements before requiring repairs. This is a quality that is desirable in commercial vehicles. It is also easy to maintain, and can work with most synthetic oils and lubricants.
There are certain features that make the Toyota Hiace Van one of the leaders of its vehicle class. Here are some things we suggest you consider when choosing a Toyota hiace for your own personal use or for business. Each specification are different and caters to what purpose the hiace will be used for. To know more about the specs, please refer to the list below:
| Specification | Things to Consider |
| --- | --- |
| Engines | There are various powerful engines with the Toyota Hiace line, with each new release increasing in power and improving fuel consumption. The most popular ones are the 2.0L 1RZ, and the 3.0L turbocharged 1KZ-TE. |
| Models | Each Hiace Model comes with a certain features added. The base model is the DX, with the GL and Super GL being upmarket versions. The model number also relates to the engine. For instance, RZH112V has a 1RZ engine. |
| Year | The year of manufacture denotes the features available with the Hiace, and lets you know what to expect. The year of manufacture is also important for import regulations in different countries |
| Transmission | There are only two variants available with the Hiace; manual and automatic. Manual transmissions are best suited for transports outside of urban areas because they can handle the harsher drives better. |
| Mileage | The Toyota Hiace is a very enduring vehicle and is useable even at higher mileages of 150,000km and above. |
| Decks | Higher decks are advised for multipurpose business use since they can be used on different types of terrain. They can endure rougher roads outside of urban areas. |
| Chassis | Different chassis determines the uses for the Hiace. Long chassis vehicles are ideal for carrying cargo and as commuter vehicles. Short chassis Hiace is ideal as a family vehicle. |
| Seats | Delivery and cargo vans typically come with one set of seats at the front for the driver and two passengers. Commuter vans come with more. |
| Fuel | The Toyota Hiace is only available with either a petrol or a diesel engine. Fuel economy can be as low as 11.4 kilometers per liter depending on the model. |
| Drivetrain | Some Toyota Hiace models are 4WD, but most come as rear wheel drive. |
Different Specifications for each Hiace Generation
Each Hiace Van Generation is characterized by it's features and improvements on the previous predecesors, we will explain the characteristics of each generation of hiace below in detail:
Toyota Hiace First Generation

(photos credit to

wikipedia

)

Toyota Hiace Second Generation

(photos credit to

wikipedia

)

Toyota Hiace Third Generation

(photos credit to

wikimedia

)

Toyota Hiace Fourth Generation

Toyota Hiace Fifth Generation
Toyota Hiace First Generation H10 (1967 to 1977)
The first generation was launched on 1967 and had 4 engine variants within its lifetime and a rather lengthy production span of 10 years. It also had 4 body variants within the same time. It was introduced as a commuter vehicle capable of light commercial use and was available as a delivery van, a commuter van, a pick-up truck variant, and a wagon. The design featured a Monocoque body with the front wheel suspension being independent. The engines available at launch were a 1.3 liter Type P that was capable of 56 HP or a 1.5 liter (2R) that could produce 70 HP. Both engines were gas powered. In 1971, they replaced the 1.5 liter engine with a more powerful 1.6 liter unit that could generate 83HP. The 18 liter variant was introduced in 1975. They all came with a 4 speed manual transmission.
First generation body types for the Hiace van included a delivery van whose capacity was either 500/850Kg. The commuter version had a passenger capacity of 12 while the wagon could carry as many as 9. You could also get a 2 ton truck variant. This was only available as a single cab. This was a relatively small vehicle with a standard body of just 2350mm. The commuter version was 50mm shorter (about 2 inches) while the truck bed was 2650mm long.
The Hiace came with a heater, which at the time was considered the preserve of mid and top range personal vehicles.
Toyota Hiace Second Generation H20 - H40 (Dec.1977 - Nov.1982)
The second generation of Toyota Hiace vans was launched in 1977. Improvements were made to the overall cab design and single headlights were introduced. It available in standard, long, and super long versions for the van. The trucks now came as a single or double cab, with open van or paneled builds. A new smaller version was introduced called the Toyota LiteAce. This was smaller and was closer to the first generation Hiace vans in size. Important upgrades were also made to the comfort, safety, and functionality. By lengthening the van, they increased the volume of cargo that could be carried, and the comfort of the passengers. The wheel base on the standard vans was 2340 mm (90.2 inches), while the long vans measured 2545 mm for the long, and 2845 for the super long van.
The engine sizes and power outputs also changed. At launch, all engines were powered by gasoline, and came in 3 variants. The smallest was a 1.6 liter 12R-J engine that could churn out 80 HP, while the midrange 1.8 liter 16R-J engine could put out 95 HP. The largest of these was a 2 liter 18R-U engine capable of 100HP. In July 1979, Toyota introduced a 2.2 liter diesel powered Type L engine that produced 72 HP.
Notable changes on the second generation vans included the "increase in load capacity" of the standard version to 600/850kg. The 9 sitter wagon was also able to carry up to 750Kg with the rearmost seats put away. This however reduced the passenger carrying capacity to 6. The Hiace also started installing a parallel 4- link closing mechanism for back door. It made opening the door in tight spaces such as delivery lanes easier.
Toyota Hiace Third Generation H50 (Dec.1982 - Jun.1989)
This generation of the Hiace was introduced in 1982, although people had to wait 3 years longer for the pick-up truck. This came in August of 1985 and shared the dyna model which was different from the 1-box models previously. This was in the height if the multipurpose vehicle trend, and this translated into the design. The interior of the vehicles was retailored for comfort and space. The ride was made smoother with the introduction of the 4-link coil spring suspension in the rear. A custom sunroof was also introduced in some models. The model numbers of the vans were also able to tell you the wheel base information. Short wheel base variants were the 50 series, while 60 series denoted the long wheel base vans. Super long vans were in the 70 series.
Third generation Hiace vans came with a "newly developed engine". There was a 1.8 liter and a 2 liter variant of the gas powered engine. A 2.2 liter type L diesel engine was introduced at a later date. Due the demand for comfort when driving, a 4- speed automatic transmission was added as an option for the gas engine. In 1985, the 7 seater wagon got a top of the range super custom limited model. Selected wagons and vans were also produced with 4-wheel drive.
Toyota Hiace Fourth Generation H100 (Aug.1989 - Jun.2004)
The first fourth gen Hiace was made available in August of 1989. Toyota made steps to solidify Hiace's standing as a luxury multipurpose box vehicle. This included making it more user friendly, and changing the engines included. There were newer 2-liter gas engines including the 2 liter 1RZ-E and the 1RZ units. There was also a larger 2.4-liter 2RZ-E gas engine, and a 2.8-liter (3L) diesel engine to all the 4WD models. The engines came with better fuel economy and an increase in power as well. Most were rear wheel drive with the 4WD being part-time. This was made full-time in 1993. There were facelifts made to the Hiace in May of 1994, in 1997, and again in 2002. The vans came with a 5 speed transmission.
Several variations of the Hiace were launched in the lifetime of the 4th generation. In 1999 for instance, the Grandia and the 2.0GL variants were launched together with a Hiace commuter. A special edition Super Grandia J was also sold from August 2002 to June 2003.
Toyota Hiace Fifth Generation H200 (Aug.2004 - 2009)
This was a further improvement on the previous generations and was launched in August of 2004. It came either as a wide long wheelbase van, a super long wheelbase Grand cabin with a high roof, a wide long wheelbase wagon, or as a wide super long wheelbase van. The gear was also moved to the dashboard for easier reach. You either got a 5 speed manual, or a 4 speed automatic as transmission.
The engine on most models was a 4 cylinder Overhead camshaft engine. It was available as a 2000cc 1TR-FE or a 2700cc 2TR-FE for petrol, or a 2500cc 2KD-FTV and a 3000cc 1KD-FTV turbodiesel. The 1TR-FE and 2TR-FE engines are capable of 134HP at 5600rpm and 158HP at 5200 rpm respectively. The 1KD-FTV and 2KD-FTV give 142Hp and 107HP at 3400rpm respectively.
In November of 2017, they fitted the Japanese variants of the Regius Ace and Hiace with the 2.8L 1GD-FTV with a 6 speed automatic. This was capable of generating 149HP at 3600 rpm and was designed replace the 1KD-FTV engine.
What are the Different Types of Toyota Hiace Van (Variations)?
Over the course of its production, the Hiace van has had many van variations. They have all been characterized by certain changes to improve the ride quality, power distribution, and capacity. The aim of these improvements is to make the Hiace a modern workhorse. There have been certain variations that have stood out through the generations. They include the Hiace Panel van, the Super GL, the Mini-bus, and the Deluxe/DX versions.
Hiace Panel Van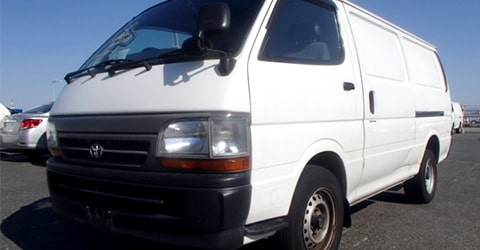 The panel van is arguably the most famous urban load carrier in the world today. Since 1967, it has been used as a delivery van, a commercial van, an office moving van, and in even in some parts of Africa modified to carry passengers. The cab over design in particular allows for more luggage space in the back.
There have been several developments in the line, to improve its functionality, especially in urban spaces. It started with the introduction of a longer and more streamlined cab in 1977, during the introduction of the second generation of the vehicle. The introduction of a short and long wheelbase version to increase diversity. The engines and transmissions have also been vastly improved for more fuel efficiency, more horsepower and torque, and lower carbon emissions. The most powerful of the first generation Hiace panel vans for instance could only muster 84HP, while the newer versions come with a more powerful 2.8L turbocharged engine capable of up to 174HP. That is more than double the original Hiace's output.
Common Uses:
• Public service vehicle
• Ambulance
• Delivery and cargo van
• Refrigerated van
• Moving van and furniture carrier
Features:
• Powerful workhorse of an engine
• Excellent load carrying capacity
• Smaller turning circle (6.9 meters)
• Comfortable driver cab with fabric seats
• ABS and reversing camera on newer models
Toyota Hiace Super GL (Also called: Black Stripe, Silver Stripe)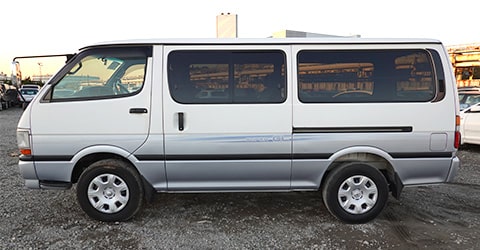 This version of the Hiace came with the introduction of the fourth generation. It was created as an upmarket version of the workhorse DX. It was wider and the engine provided more power. The ride quality was also greatly improved, and subsequent upgrades were made with each newer version of the vehicle. For instance, the 2012 super GL came with a 3.0L engine, and safety features such as front airbags for the driver and passenger. It also came with anti-lock braking and air conditioning as standard. They have since added reversing cameras as standard. The 2012 Super GL is capable of an impressive 8L for every 100 kilometers, and comes with a four star safety rating. All these are features that are essential for urban driving which is something Toyota promises with the Hiace.
Common Uses:
• Public Transport vehicle (Requires some modification)
• Delivery van
• Ambulance
• Funeral Home Hearse
• Tour Van
Features:
• Excellent fuel consumption
• Great carrying capacity and payload (1000kg)
• Excellent fuel consumption
• Powerful 3.0L engine
• ABS and Air-conditioning as standard
Toyota Minibus (Also called: Hiace Bus, Hiace Commuter)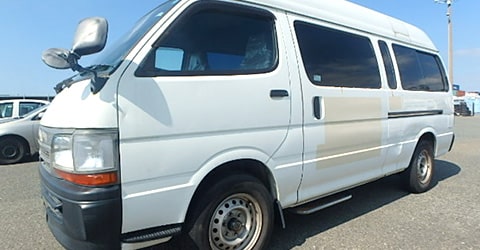 This was launched and marketed as a people carrier. It was the comfort option of the Hiace and was designed to ride better than the Commercial van, with relatively the same amount of power. The commuter Hiace in the third generation can be touted as the precursor of sorts to the minibus. This was confirmed with the launch of the fourth generation 15 seat super long wheel base high roof minibus in 1989. This came with either a 2.0L gas, or 3.0L turbodiesel engine. The newer versions came with more power up to 160HP and a 5 speed manual gearbox. The diesel version gets a four speed automatic with the gas variant getting a 6 speed automatic instead.
There have been improvements to the original minibus, with focus being on comfort and passenger space. The mount of seating has been reduced for the 2019 version for instance with focus on passenger space and leg room. You get a choice between a 12 and a 14 seater. It comes with air conditioning as standard and foldable second row of seats for more active luggage space. There is more space in the front for the driver, with storage cubbies and cup holders. You also get a 3 inch display with connectivity and rear camera view. Safety features include ABS braking, airbags and vehicle stability control. You also get reverse sensors, hill and parking assist as standard. The minibus also comes with air conditioning for the rear seats as standard, and a power sliding door with the controls reachable by the driver.
Common Uses:
• Hospital van
• School van
• Company staff bus
• Public transport vehicle
Features:
• SRS Airbags, ABS braking, and vehicle stability control
• 2.0L gas or 3.0L turbodiesel engine
• 5 speed manual or 6 speed automatic transmission
• Can carry either 12 or 14 passengers
• Air-conditioning
Toyota Hiace Deluxe / DX (Silver Mirror)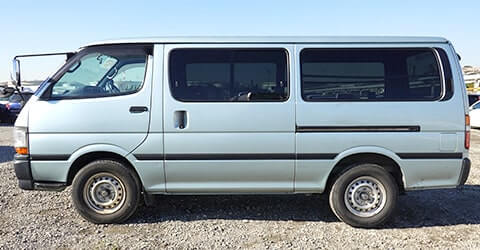 This is the highest version of the Toyota Hiace line. It was launched as part of the 6th generation of Hiace and has seen some drastic changes to both the style and the design. The first major change is a deviation from the cab over design for a protruding hood. This also means that the engine is no longer under the front seats. This was done with both space and safety in mind. It increases the amount of room available to the driver and front passenger, while at the same time working to disperse the impact in the event of a collision. It features angular headlamp and a larger more formidable grill. It also comes with LED lights below the headlamps, compact lower air intakes, a sportier bumper, and a large chrome bar.
The interior comes with changes to the dash and the inclusion of soft touch materials everywhere. With the engine moved from under the seat, it is a reduction on both noise and temperature in the cab. The dashboard is large with easy to read dials and a gear lever. The standard audio system comes with four speakers, aux, USB and Bluetooth connectivity. The electronic doors have speed sensing locks. For safety, the Toyota Hiace deluxe comes with driver and passenger airbags. It comes with ABS and an engine immobilizer.
The engine is a punchy 2.8L four cylinder turbodiesel which is mated to a six speed manual or six speed automatic transmission. This is capable of producing 176HP and 420Nm of torque at 1400 rpm.
Common Uses:
• A hotel van for ferrying important guests
• A tour van
• A Hospice van for older people and the disabled
• As a company staff van
Features:
• Engine moved to the front for more room and less noise
• Large Grill with LED headlamps
• Soft-touch interior material
• Powerful 176HP engine
• SRS airbags and ABS braking for safety
Hiace Van Chassis Variation: Short Chassis(SWB) vs Long Chassis(SLWB)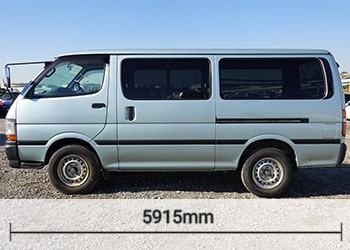 Photo of Long Chassis Hiace Van
The Hiace is available on different wheelbase options. The wheelbase is the distance between the center of the front and rear axle. Knowing what sort of wheel base to get is important, because it influences the kit the car comes with, and also the amount of room. Long wheel base cars come with better space, more comfort, and offer a smoother ride because they are able to roll over bumps easier. This makes them ideal for long distance transportation of people and precious cargo. Short wheel base vehicles on the other hand are more adept at precision driving which makes them ideal for short distance deliveries.
The Toyota Hiace comes with the option of either a short wheelbase, long wheelbase, or super long wheelbase van. Each comes with their own set of benefits including:
Short Chassis Hiace Van (Short Wheel Base)
This are the "smaller" models of the Toyota Hiace van series. It started off with the second generation 20 series Hiace vans and continues till date. Short wheelbase vans are excellent as short distance delivery vans and small urban commuter vans. This is because they can be maneuvered easily around the small streets of large urban centers and are very usable in traffic. They also have a smaller turning circle, which is desirable in a commercial urban delivery van. This is because the vehicle will mostly be making stops and turns on delivery lanes which tend to me narrower. Short wheelbase Hiace vans are also easier to park, which is something that is required of an urban transporter.
The biggest drawback with short wheel base Hiace vans is that they are not as comfortable when dealing with potholes and around rough terrain. The ride is also not very comfortable around the waist of the car since the angle of the ride is larger. They are also not very comfortable as long distance commuters because of the subpar ride quality. They also have less room and are unstable when accelerating and turning.
What's Good:
• Easy to maneuver around crowded streets and narrow alleys
• Make excellent delivery vans
• Cheaper to run
What could be better:
• They are not as comfortable with potholes and rough terrain
Long Chassis Hiace Van (Super Long Wheel Base)
This is divided into long wheelbase (LWB) and super long wheelbase (SLWB). They make really good long distance commuters and transporters for delicate cargo. The first benefit to getting a long wheelbase Hiace is the space. There is more leg room and more luggage space. If the vehicle is to be used as a delivery van, there is more space to work with. Long wheel base Hiace vans work best as distance commuters, ambulances, tour vans and even frozen goods transports.
The biggest demerit to owning a long wheelbase Hiace is the cost of repair in case of an accident. Since the cost of manufacturing long wheelbase vehicles if larger than their short wheelbase companions, they typically cost a bit more. This translates into the cost of replacement parts and body panels. LWB and SLWB Hiace vans also tend to be trickier to maneuver in traffic, and park in tight spaces.
What's Good:
• There is more space in a LWB Hiace. This means more cargo space and legroom for passengers. It is also easier to customize.
• They make excellent long distance transport vehicles especially for delicate cargo.
What could be better:
• The cost of spares is higher and will cost you more to repair in case of an accident.
Hiace Van Roof Size Variation: High Roof vs Low Roof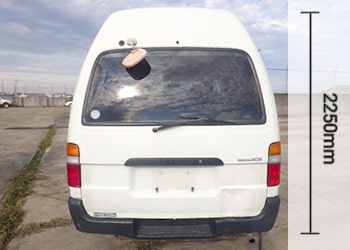 Photo of High Roof Hiace Van
When buying a Hiace van, there are two roof options available; the high roof version, and a low roof version. Each option comes with its own set of advantages and shortcomings. It is important to however know how your roof choice may affect your driving and the functionality of the van. Here are the Toyota Hiace roof options in more detail:
Low Roof
Most of the SWB Hiace vans come with the low roof. Commercially, this makes them ideal as delivery vans in urban areas since they are lower than most back entries, gateways, bridges and entry barriers. If you intend to use your low roof Hiace van as a family vehicle, it is easier to attach a roof rack to it. It is also easier to each items placed on the roof rack.
The biggest trade off with a low roof is the diminished space. This applies to both commercial and personal vehicles. In a commercial setting, it limits the amount of space you have loading and unloading items from the cargo space. This is why low roof Hiace vans make excellent urban delivery vans, in-town commuter vans, and freezer vans. These are jobs that do not require carrying a lot of volume. When used as a minibus or a family van, low roof Hiace vans have less headroom in comparison.
Good Point: Easier to drive on urban areas and perfect as a commercial delivery truck. It is also easier to attach a roof rack.
Bad Point: Less Room space in comparison with the High roof variation
High Roof
A high roof Toyota Hiace makes for excellent distance delivery vans and commuters. They are also ideal as ambulances and tour vans. This is because the high roof gives you more space to work with if you are carrying cargo. You can easily load and unload items with reduced risk of breakage or injury to you or someone else. The extra space also allow for various customizations to enable your van to better transport breakable items. Padding can be added for extra cushioning without adversely affecting the cargo space available.
The extra space also makes these vans excellent ambulances, tour, and commuter vans. It is enough space for a medical bed, medical personnel, and necessary medical supplies. Since most high roof vans are LWB and SWLB, the ride is also smooth enough to comfortably transport sick and injured people. As commuters, high roof vans offer more head and leg room. The extra space allow for modifications that make them excellent tour vans, including the addition of reclining seats and the addition of drink coolers.
Good Point: Big Space, Comfortable and more versatile as the extra space allows for modifications.
Bad Point: Harder than their low roof brothers to maneuver in narrow streets and park. They will also have a hard time going through some lower entries and parking garages
What are the different usage of Toyota Hiace Van
The Toyota Hiace van has continued to stand out thanks to its various practical qualities. The customizability and the space make it excellent as an ambulance, tour van, and minibus in various countries. They are also easy to drive with responsive controls and relatively small turning circles. This makes them great as delivery vans.
These practical qualities are mated to a decent amount of power from the engine and amazing reliability. This makes the Toyota Hiace well-loved on various parts of the world. Here are some of the more common uses for the Van:
Comparison of Hiace Van to Other Van Models
Toyota Hiace
Nissan Caravan
Transmission
MT / AT
MT / AT
Available Drivetrain
2WD / 4WD
2WD / 4WD
Fuel
Diesel / Petrol
Diesel / Petrol
Maximum Passengers
Average of 8 seats
Hiace Commuter Model has up to 15 seats
"Old Caravan Bus, and Caravan Coach has 15 Seats
Newer Model has 12 Seats"
Durability
A well maintained toyota hiace can run without any problems even with more than 300,000KM and with proper maintenance, "the hiace engine can outlast any van model"
A well mainained Nissan Caravan can run "almost" the same as a Toyota Hiace.
Availability of Spare Parts
As a Toyota Car, spare parts for hiace are very easy to find and are priced lower than other car brands since it is easy to obtain. Especially in East Africa and Asia where hiace is one of the main vehicles used.
Spare parts for a nissan caravan van, is seldom found as there is lesser supply than that of hiace, usually if there are spare parts for a nissan caravan van, it is either at a high price or sold out.
Engine Variations
There are various powerful engines with the Toyota Hiace line, with each new release increasing in power and improving fuel consumption. The most popular ones are the 2.0L 1RZ, and the 3.0L turbocharged 1KZ-TE.
Nissan Caravan van also has some good engines such as the Z20 2.0 liter engine and the LD20T Turbo Diesel engine, but when it comes to variation, durability and power of the engine, Hiace is our recommendation
Body Variation
Toyota Hiace be used in many ways as there are different variations to suit each needs. It can be used as an ambulance(granvia), a freezer van, as a minibus(commuter), as a cargo van, as a family van, Van with wheelchair access (Welcab), a van with a Bath area and even as a mobile home.
Nissan caravan is mostly used as a cargo van, as an ambulance and mostly chosen as a cheap alternative for hiace van.
Final Verdict
(Our Recommendation)
If you are looking for a van that is durable, lasts long and easy to repair (many available sources for spare parts). We suggest a Toyota Hiace. It is the case wherein you get what you pay for - the little extra price difference from a Nissan Caravan is compensated by Toyota Hiace's engine durability, better suspension and bigger interior space.

The resale value of Toyota is also bigger as to compared with the Nissan Caravan
If you are looking for a van with similar specs to hiace van but at a lower price, we suggest a Nissan Caravan Van but be aware that the spare parts and durability are not as good as the Toyota Hiace Van.
List of other Hiace Types and Names
The Toyota Hiace is an iconic and instantly recognizable van in many parts of the world. There are however several versions of the van that have been released over the years, that were either special editions or localized releases. These came mostly came with better kit than the base model and include:
Toyota Touring HiAce - XH10, XH20
This was an upmarket variation of the Granvia, which was sold in Japan between 1995 and 2002. It was a semi bonneted van that was available either as rear wheel drive or four wheel drive. It was only available as a passenger only version and came as 2.7L or 3.4L petrol. It was also available as a 2.4L or 3.0L diesel and was marketed as a multipurpose passenger tourer. They are currently highly sort after as used cars and are valued in many countries around the world.

Commonly Known as (Other Names): Granvia, HiAce Regius, Grand HiAce, Touring HiAce
Toyota Regius Ace - H200
This is the reinvention of the Toyota RegiusAce, which was first introduced to the world in 1999. With the H200 RegiusAce, Toyota did a complete restyling of face and interior. It continued the RegiusAce mission of providing the luxury with the affordability and reliability of the Hiace. The engine options are a 2.7L gas engine or a 3.0L turbodiesel mated to either a 5 speed Manual or a 6 speed automatic transmission. Notable interior changes included moving the gear shift to the panel area in order to allow passengers to move from the front to the rear of the vehicle while remaining inside.

Commonly Known as (Other Names): Mazda Bongo Brawny (Japan), Pars Khodro Haise (Iran), IKCO Aryan (Iran), Toyota Commuter (Thailand), Toyota RegiusAce (Japan), Toyota Pitbull/Box (Kenya), KDH (Sri Lanka), Toyota Ses'fikile (South Africa), Toyota Ventury (Thailand), Toyota Quantum (South Africa)
Toyota Hiace Bus (Best known at Toyota Hiace Commuter)
This is the passenger variation of the Toyota Hiace Van. It is available in a 6000 liter (about 212 cubic feet) and 10,000 (About 353 cubic feet) liter capacity. This translates to their payload capacity, with the smaller model rated at 1080 Kg (2380lbs) compared to 1300Kg (2866lbs) for the larger model. It comes with extended legroom and air-conditioning as standard. The passenger capacity for the smaller model is 12 while the larger bus can hold 14 comfortably.

Commonly Known as (Other Names): Toyota Minibus, Toyota Hiace Commuter
Toyota Pickup Hiace
These were small cargo haulers that were designed based on the Hiace. They were produced from the first generation in the 1960s until they 1995 when the last one rolled off the line. They were characterized by packing a lot of hauling capacity into a compact and maneuverable truck.

Commonly Known as (Other Names): Hiace Pickup
Where to buy a Low Priced Hiace Van
Toyota is a Japanese company and the home of most of the top kitted Hiace vans. For instance, the first Regius Ace was exclusively sold in Toyopet dealerships in Japan alone. More variations of the Hiace are available in Japan than any other place and as new versions are launched, used Hiace vans become available.
Finding and importing a van from an authorized and trusted dealer is the most reliable way of ensuring that the vehicle you get is in pristine quality. This is because they vet every vehicle carefully before listing it. The strength of their business is dependent on their trustworthiness after all. It also beats purchasing locally, since the used car dealer does not have to deal with the business overheads your local dealer contends with. They will therefore be more pocket friendly.