Hino Ranger - A Reliable Truck from Japan
Hino Ranger, a medium-sized truck of the 4 to 11.5t class, is a popular model overseas.
Making full use of technical capabilities is the greatest feature of Hino Trucks, Ranger is used in a wide range of purposes all over the world. The name "Ranger" means that it is a truck for professionals who promises profits by meeting customers' expectations and continues to evolve while making minor changes.
We will explain in detail about Ranger that has been loved for 56 years since 1964.
Hino Motors Popular Series: Ranger / Introducing the secret of its popularity!
Hino Motors Ranger boasts world-class durability. We would like to introduce the reason for its popularity, which controls the world's top market share.
"Enjoy the pleasure of driving" ~ It's a truck that has been loved by drivers for a long time, so it has plenty of charm which should not be missed!
[Why is it so popular?] ~ Attention to the characteristics of Ranger that support its popularity ~
Feature 1: Excellent durability
Feature 2: High technical capabilities
Feature 3: High reliability
The medium-sized truck, Hino Ranger, has been developed with the aim of attracting a wide range of audiences. Therefore, it continues to evolve while incorporating the opinions of the drivers without compromising on fuel efficiency, comfort performance, and safe performance.
The lineup is diverse, and you can select from cargo, dry vans, wing vans, dump trucks, refrigerated cars, mixers, etc. according to the purpose!
Let's take a closer look at each attractive features!
Excellent durability
Ranger is highly regarded from all over the world by continuing to participate in the Camion division of the Dakar Rally, which is said to be the toughest race in the world. Due to its high durability, unnecessary vibration is suppressed, and the driver can expect comfortable driving. One of the attractions is that the maintenance cost can be reduced due to its high durability!
High technical capabilities
Ranger is based on the concept that "more drivers can reduce fuel consumption." To achieve this, we have enhanced the transmissions such as wide-range 6MT, multi-stage 7MT and 6AT, and 6MT that is most suitable for four-wheel-drive vehicles to enable efficient driving on various roads. With this function, regardless of driver, it can be driven on roads of various countries without problems! In addition, the technological power to achieve low fuel consumption with a high-power engine contributes to building a car that is also environmentally friendly.
High reliability
From the first generation Ranger in 1964 to the current model, Ranger has been upgraded to a more reliable truck from the drivers by adapting minor changes according to the times and needs. In addition, carrying goods safely by Rangers will lead to increased trust in customers by improving driving quality.
Which models are the best selling? Popular car lineup
There are various models of Ranger depending on the purpose.
The following models are popular especially in markets such as Congo, Tanzania, Uganda, Zambia, and Fiji.
Ranger series by loading capacity
Maximum carrying capacity 4.2ton series
FC7JCAA
FC7JDAA
FC7JKAA
FD7JEAA
FD7JPAA
FD7JWAA
FD7JKAJ
FD7JMAJ
FD9JDAA
Maximum carrying capacity 7.4ton series
GC7JDAA
GC7JGAA
GC9JDAA
GX7JEAA
GX7JLAA
Maximum carrying capacity 7.9ton series
FJ7JLAG
FJ7JGAA
FE7JLAA
FE7JPAG
FE7JJAG
FJ7JHAA
FJ7JDAA
FE7JEAA
FT8JGAL
Maximum carrying capacity 8.9ton series
FG8JKAA
FG8JGAA
FG8JWAA
FG8JMAA
FG8JPAA
Maximum carrying capacity 11t series
GK8JKAA
GK8JLAA
GK8JRAA
[Evolution of Hino Ranger] ~ There are reasons to be loved ~
Hino Ranger has been upgraded 5 times since the first generation!
The secret that has been loved for a long time since the birth of the first generation in 1964 is that the design has renewed to improve usability regardless of physique or age. Here, we will introduce the history of Ranger, which has been improved to become a more accepted truck!
Launch of the first Ranger in 1964! (1964-1984)
The first Hino Ranger was released in 1964 as a 3.5-ton truck. Minor changes of three sizes were carried out in 1967, 1969, and 1978, and it continued to be produced for 20 years after the launch of the second generation Ranger.
The second-generation Ranger was released in 1969! (1969-1980)
The second-generation Ranger was launched with a newly developed 120 ps engine installed, but 165 ps EH700 type engine was introduced in 1977, which later became 170 ps. It can be said that it is a model adapted with a high output of Hino Ranger.
The third-generation Ranger in 1980 (1980-1989)
of 4L, 4S, and 4D series were released on the market with the slogan, "The new era always starts with Hino Motors." It became a model that continued to be produced as an "Econo Diesel" until 1995 as an overseas specification vehicle in Asia and elsewhere!
The fourth-generation Ranger in 1989 (1989-2001)
The 4th generation Hino Ranger was released with the H07D engine that complied with the regulation of exhaust gas in 1989, adopting a two-lamp system headlamp. By 2001, various modern equipment such as ABS and following distance warning devices were adopted. A driver airbag became standard equipment, and the door handle was changed from metal to resin.
The fifth-generation Ranger in 2001 (2001-2017)
The fifth-generation model was a model that has significantly improved the natural environment and driving environment, such as the setting of low-pollution automobile LE type vehicles. For the first time in a medium-sized truck class, a bumper-embedded lower headlight was adopted, and the exterior design was changed to a new design!
The sixth-generation Ranger in 2017 (2017-present)
The result of truck technology released in 2017 by generously introducing Hino's technology cultivated over 50 years from the first generation!! Equipped with safety devices such as lane departure warning device and VSC (Vehicle Stability Control), it is a model that pursues simplicity regardless of age, gender, or experience!
Models and Engines
Models
Short Cab Cargo
[FC series]
[FD]
FC9JSAA
FD7JWAA
FC7JNAA
FD7JUAA
FC7JLAA
FD7JPAA
FC7JKAA
FD7JMAA
FC7JJAA
FD7JLAA
FC7JHAA
FD7JKAA
FC7JGAA
FD7JJAA
FC9JEAA FD7JGAA
Full Cab Cargo
[GK series]
GK8JWAA
GK8JUAA
GK8JRAA
GK8JNAA
GK8JLAA
Dump trucks/Mixer
SKG--FC9JCAD
SKG-FD7JDAD
SKG-GC7JDAM
Wing van Completed car
FC7JKAA
FD7JLAA
Engines
Ranger is focused on reducing fuel consumption so that more drivers can reduce fuel consumption.
TC(A5-3): 191KW(260PS)/2,300rpm, 882N.m(90kgf.m)/1,400rpm
TD(A5-4): 177KW(240PS)/2,300rpm, 833N.m(85kgf.m)/1,400rpm
TE(A5-5): 177KW(240PS)/2,300rpm, 794N.m(81kgf.m)/1,400rpm
TF(A5-6): 155KW(210PS)/2,300rpm, 706N.m(72kgf.m)/1,600rpm
TG(A5-7): 140KW(190PS)/2,000rpm, 706N.m(72kgf.m)/1,600rpm
Comparison between Hino Ranger and Isuzu Forward!
Ranger and Forward are often compared as medium-sized trucks! Both have a wide variety of models and have been supported by customers for over 50 years.
So this time, we will briefly explain each feature!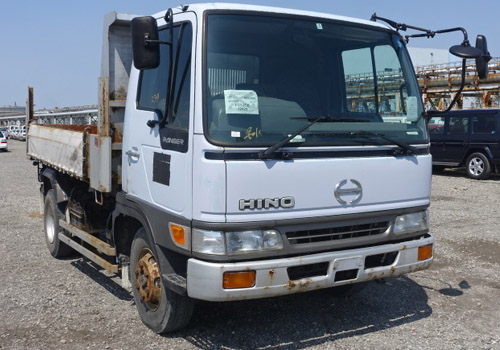 Hino Ranger
Speaking of trucks, its Hino, In pursuit of safety and environmental technology, Hino Ranger has adapted minor changes at appropriate times even during a long model change cycle and has improved its perfection. Also, there are some advantages such as a few engine horsepower and the least amount of damage! These points are also one of the big attractions of Hino trucks.
FAQ
Depending on the car model, it is approximately 5km / L! Ranger has the following features to help more drivers to reduce fuel consumption.
By widening of the range, it contributes to further fuel efficiency. (* 6MT, 7MT)
Pursuing lower intake air temperature to improve fuel efficiency
Displays whether fuel-efficiency of the vehicle is carried out
Points that especially focusing on safety performance! Automatic control and inter-vehicular distance were adapted for the first time in the medium-sized car! Equipped with a collision avoidance function that detects pedestrians and even parked vehicles, it is the truck that is gentle not only for drivers but also for pedestrians.
The goal was to have the top level of seating comfort as a commercial vehicle that makes driver least tiring. The support around the waist and thighs is improved to reduce stress even during long hours of driving! It is also designed to expand the adjustment range of the driving position to fit drivers of various physiques. Even more! The meter has a universal design, and the size of the speedometer and engine tachometer is increased. This makes it easier to see the meter while driving!