Cheap Mitsubishi Fuso Fighter Trucks for Sale
Mitsubishi Fuso Fighter Specifications
Main Characteristics
The Mitsubishi Fuso is a truck with a good balance between practicality and livability. The Engine is made by Daimler AG (the parent company that also makes Mercedes), which means a mixture of fuel efficiency and power, with very little vibration and engine rumble. These characteristics make the engine excellent for long distance hauling.
The ride is comfortable, with air suspension included for the front to improve cabin comfort. It is spacious with comfortable seats which include height tilt adjustment and a reclining back seat for the passenger. There is a driver side airbag, and safety belt pre-tensioners. The cabin is also air conditioned and heated making it ideal for most weather conditions. Front air suspension is included to make the ride more comfortable even over bumps and rough road, with a steel rear suspension and a semi-elliptic leaf stabilizer bar.
The Fuso is available in different body styles, including the standard flat standard chassis, a dump truck variation (the tipper), a semi-truck, a mixer, and even a simple crane. It is excellent for cold storage delivery trucks as well. Cab options include the short or the full cab, with the full cab having more space and better storage.
Load Capacity (4ton MItsubishi, 6ton Mitsubishi, 8ton Mitsubishi and 10ton Mitsubishi)
Different models are capped at different load capacities. Custom body makers however can construct bodies that are capable of carrying loads higher than 4 tons, depending on the buyer's needs. Fuso fighter load capacities are classified according to models. This is because certain models have a larger engine capacity, with more power and therefore a higher load capacity.
The entry level load capacity is 4 tons and the smaller models are capable of hauling up to 5 tons. These trucks are suitable for medium sized hauling that cannot be done using pick-ups or vans. They make excellent grocery vans, delivery trucks, and moving vans, because they are the right balance of load capacity, fuel efficiency, and truck size, for city driving.
Mid-level trucks are capable of carrying between 5 and 8 tons. This makes them ideal for hauling cargo between cities. Larger Fuso fighter models are capable of carrying between 8 and 15 tons, which make then ideal for cargo delivery between states. They are also best suited for dump truck and cement mixer bodies.
Here is a table to help in identifying the load capacity by the Fuso Fighter model
| Capacité de chargement | Code du modèle |
| --- | --- |
| 4 tonnes | FH217, FH218, FH21G, FH21H, FK61F, FK61G, FK61H, FK62F, FK64F, FK64H, FK66F, FK71D, FK71F, FK71G, FK71H, FK71R, FK727, FK728,FK72F, FK74F, FK74H, FK74R, FL61H, FL63H |
| 4-5 tonnes | FH227, FH228, FK622, FK627, FK628, FK629, FL628, FL639 |
| 5-7 tonnes | FK62FY, FK65FY, FK72FY, FK75FY |
| 5-8 tonnes | FM622, FM629, FN612, FN622 |
| 6-9 tonnes | FM612, FM619, FM652 |
| 8-15 tonnes | FK61F, FK62FZ, FK65FZ, FK71H, FK72FZ, FM62F, FM62H, FM63F, FN61F, FQ61F, FQ62F |
Models and Engine (6D14, 6D16, 6D17, 6M60 and 4M50)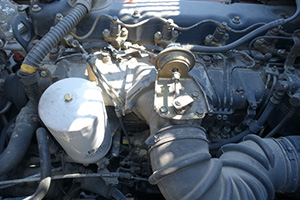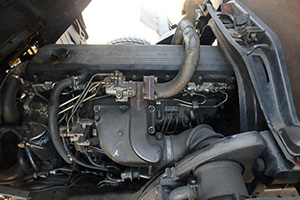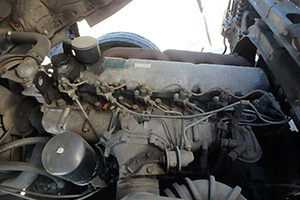 The Mitsubishi Fuso Fighter range comes with the option of several engine models, with some engines being used on different vehicle models. The engine model also determines the amount of power it produces, with options starting from 200 HP. There are also 220 HP, 245 HP, 255 HP, 270 HP and 280 HP Fuso engines available. Built by Daimler, Fuso fighter engines are renowned for their reliability and ease of driving. They come with the option of naturally aspirated or turbocharged. All the engines in the Fuso fighter range are 6 cylinder.
This is a quiet engine with low vibrations and driving noise, making it ideal for driving long hours. It comes with a Selective Catalytic Reduction system (SCR) which actively controls emissions by injecting a liquid agent into the exhaust of the engine, through a special catalyst. This allows the entire system to remain cooler when running, which in turn increases the time the engine can run before requiring service. Depending on the engine model, service intervals can be as long as 30,000 kilometers or 600 hours of running. This is a great way of reducing operating costs.
Engine models are easy to determine from the model number of the truck. This can be done by observing the fifth digit in the model number (See model code guide below). Here are the different engine models available and the vehicle models they are attached to.
Modèle de moteur
Code du modèle
6D14


(search now)

FK335, FK345, FK415, FK416, FK425, FK515, FK615, FK615GW, FK615HW
6D14T


(search now)

FK415, FK515
6D15


(search now)

FK416, FK516, FK666
6D15T


(search now)

FK416, FK516, FK616, FM516, FM616, FM656
6D16


(search now)

FH217, FH217GUN, FH227, FH227GUN, FK337, FK417, FK467, FK517, FK567, FK617, FK617GW, FK617HW, FK627, FK667, FK727, FL417, FM517
6D16T


(search now)

FK612, FK622, FK662, FK672, FM612, FM622, FM652, FN612, FN622
6D17


(search now)

FH218, FH228, FK418, FK618, FK619, FK628, FK629, FK668, FK678, FK728, FL618, FL628, FL638, FL639, FM618, FM619, FM628, FM629, FM658
6D17T


(search now)

FK330
6D31


(search now)

FK330
6M60T


(search now)

FK61F, FK62F, FK64F, FK65F, FK71F, FK72F, FK74F, FK75F, FL63F, FM62F, FN61F, FQ61F
6M61


(search now)

FH21G, FH21GG1U, FH21H, FK61G, GK71G, FK74H, FL63H, FM62H
4D34T


(search now)

FK603
4M50T


(search now)

FK61R, FK64R, FK71D, FK71R, FK74R
Model Codes
There are many different Fuso fighter models, which can be confusing at first. Each digit in the model number (for example FK72F), represents a different specification within the truck. Here is a simple guide to understand the unique Mitsubishi automobiles available.
The first digit designates the type of vehicle it is.
If the model number begins with a B then the vehicle is a bus, while model numbers beginning with an F represent Fuso trucks.
The second digit in the model number indicates the drivetrain attached.
An H represents the 4×2 Fighter Mignon while the K represents the 4×2 rear wheel drive version. The letter M denotes the 4×2 version, but with a high floor. L stands for the 4×4 version of the Fuso. The letter N stands for the 6×2 version, with Q representing the high floor version of the 6×2 Fuso.
The third letter represents the type pf cab attached.
with 4/6 representing a full cab with a cabin bed equipped, and 3/7 standing for a short cab.
The fourth digit stands for the vehicle rank.
The fifth letter is used to show the engine that comes with the truck.
The number 2 indicates that the engine equipped is a 6D16-T, while the number 5 represents a 6D14 or a 6D14-T engine. The number 6 represents a 6D15 or a 6D15-T engine, the number 7 a 6D16 engine, and finally, the number 8 indicates a 6D17 or a 6D-17-t engine. Sometimes the digit is a letter, which means could mean a different engine. The letter F represents the 6M60T engine, while an H or a G indicates a 6M61 engine. The letter R means that the truck comes with the 4M50-T engine.
The sixth digit represents the length of the wheel base.
The more advanced the letter of the alphabet, the longer the body.
Number of Nuts
The various Fuso fighter models come with different axles, depending on the load capacity, and engine. The entry model 4 ton variations for instance, come with a reverse Elliot "I" beam front axle, which is capable of carrying up to 4.1 tons. This is paired with a full floating hypoid rear axle with a load capacity of up to 10 tons. The rear suspension is steel and comes with a semi-elliptic least stabilizer bar as well. The main leaves are 1300×70mm while the helper leaves measure 900×70mm.
As such, the different vehicle models can also be identified by the number of nuts on each wheel. This starts off at 6 nuts for the smaller trucks, which are ideal for hauling cargo around populated areas. These also make excellent frozen foods delivery trucks. Medium sized trucks on the other hand come with 8 nuts to suit their larger wheels and load capacity. The larger Mitsubishi Fuso models come with ten lug nuts per wheel.
Below is a table detailing the different models and the number of nuts that each comes with:
| Code du modèle/Nombre d'écrous | 6 Écrous | 8 Écrous | 10 Écrous |
| --- | --- | --- | --- |
| FH* | Yes | No | No |
| FK* | Yes | Yes | o (Seulement à partir de 2010) |
| FL* | Yes | Yes | No |
| FM* | No | Yes | No |
| FN* | Yes | Yes | No |
| FQ* | No | Yes | o (Seulement à partir de 2010) |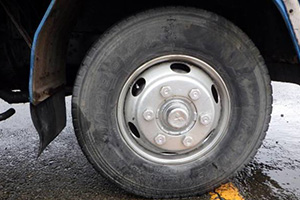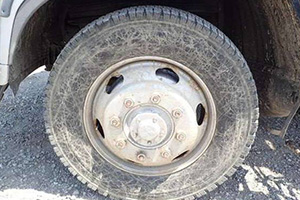 Market Price for Mitsubishi Fuso Fighter
The market for Mitsubishi Fuso trucks, both new and used, is extensive. They are loved for their longevity and ease of maintenance. Parts and spares are easy to find and replace. They are also easy to customize, with different body options available in the market. These include simple cranes, flatbeds, refrigerated/cold trucks, cement trucks, and even dump trucks. With the proper maintenance, these trucks can run smoothly for years.
Here are some of the models available for sale
Tableau des prix FOB

Code du modèle
Shift
Année d'enregistrement
Type de carrosserie
Kilométrage
Prix FOB du marché (USD)
FH217CD


(search now)

MT
2006-2007
100,000-200,000
8300-10000
FH218CD


(search now)

MT
1996
550000
7600-
FH227C


(search now)

MT
1998
135000
15000-
FH227CD


(search now)

MT
1997-1999
50,000-150,000
8600-10800
FK337CD


(search now)

MT
1993-1995
100,000-300,000
8800-11100
FK61FD


(search now)

MT
2004-2005
60,000-300,000
13300-16800
FK61FH


(search now)

MT
2000-2004
Congélateur
300,000-800,000
5300-6200
FK61FJ


(search now)

MT
2000-2005
Corps plat
300,000-900,000
8400-15700
FH217CD


(search now)

MT
2006-2007
100,000-200,000
8300-10000
FK61HD


(search now)

MT
2000-2004
200,000-400,000
14500-16800
FK71GC


(search now)

MT
2001-2004
50,000-200,000
8600-13300
FK71GJ


(search now)

MT
2001-2004
50,000-100,000
11900-15000
FK71HG


(search now)

MT
2000-2004
100,000-600,000
4300-11000
FK71HH


(search now)

MT
2002-2004
Corps plat
300,000-700,000
7100-8800
FK71HJ


(search now)

MT
2001-2004
60,000-400,000
9300-13100
FK71HK


(search now)

MT
2001-2007
Congélateur
200,000-800,000/td>
5000-8600
FK617DD


(search now)

MT
1993-1995
50,000-250,000
12500-22300
FK617H


(search now)

MT
1992-1995
200,000-700,000
7100-12000
FK619J


(search now)

MT
1996-1997
Corps plat
150,000-250,000
6500-7300
FK629M


(search now)

MT
1997-1999
600,000-800,000
6500-9400
Popular Engines of Mitsubishi Fuso Fighter
The Mitsubishi Fuso Fighter is a line of medium load commercial vehicles that have been in production since 1984. They are manufactured by the Mitsubishi Fuso Truck and Bus Corporation and are available in mid-sized and big-sized trucks. The first generation Fusos were introduced in 1984, and were in production until 1992. They were characterized by their rigid square features, which was the design at the time. Small upgrades to the headlamps and radiator grills were added in December 1987, February 1988, and February 1990. The second generation Fusos were introduced in July of 1992, and are in production till today. They were characterized by design changes to include a rounder cabin and a 4 headlight system. Improvements to safety, fuel efficiency, and ride comfort continue to be made.
FAQs About the Mitsubishi Fuso Fighter
Popular Truck Brands
Popular Truck Models
Trucks by Price
Trucks by Mileage
Trucks by Enginecode
Trucks by Year
About Mitsubishi Fuso Fighter