Car Shipping by Container
Buying in bulk? Ro-Ro shipment is not coming to your port ? Living in a No-sea-port country?
Shipping your car in a container may provide a better solution to your requirements than a Roll on Roll off (Ro Ro) service for saveral reasons including the type of vehicle you have to ship, your intended destination or it may simply be your preference to use a container to ship your car.
As most of vehicle exporter are based in Japan, We ,Carpaydiem, are mainly dealing on Ro-Ro shipment.
But, for customers satisfaction and convenience, we are ready to ship out your precious vehicle by Container too.
How to Load in Container ?
How to load 4 cars in 1 container
Basic plan of Vanning
---
With our experienced staff, we will offer you the most efficient way of vanning for your needs.
Plan
1

1 car and 1 truck >>> Simple and reasonable !
Plan
2

3 cars in one container
Plan
3

2 cars and Truck
Plan
4

4 cars in one container
Plan
5

6 cars in one container (EX : 2units of Toyota Vitz & 4 units of Toyota Prius
Difference between Container and Ro-Ro Shipment ?
Container shipment
Container ships are cargo ships that carry all of their load in truck-size intermodal containers, in a technique called containerization.
Capacity is measured in twenty-foot equivalent units.Typical loads are a mix of 20-foot and 40-foot ISO-standard containers, with the latter predominant.
As truck size intermodal containers can be delivered to your country or port. 1 car can be packed in a 20ft and 3 to 6 cars can be packed in a 40ft (depending on size of vehicles).
Only 1 car is usually packed in 20ft container, often a luxury vehicle to maintain its condition and ship safely.
Great care is taken to safely load your car so that it remains well secured for the duration of shipment to destination and does not move 40ft container, are recommended to customers who want to ship out many vehicles at once.
40ft container, are recommended to customers who want to ship out many vehicles at once.
Unlikely to Ro-Ro Shipment , 40ft container will save your delivery cost as cars can be packed in bulk.
Ro-Ro Shipment
Roll-on/roll-off (RORO or ro-ro) ships are vessels designed to carry wheeled cargo, such as cars, trucks, semi-trailer trucks, trailers, and railroad cars, that are driven on and off the ship on their own wheels or using a platform vehicle such as a self-propelled modular transporter.
As long as ramp and trailer head is there, Without crane or even undeveloped port can be used for loading.
If Ro-Ro shipmentis available, using this service is the usual way to carry Vehicles and trucks.
However, as mentioned above, it is a 1 by 1 delivery and do not suit for the ones who want bulk delivery.
Also not all ports have Ro-Ro Shipment service.
Gallery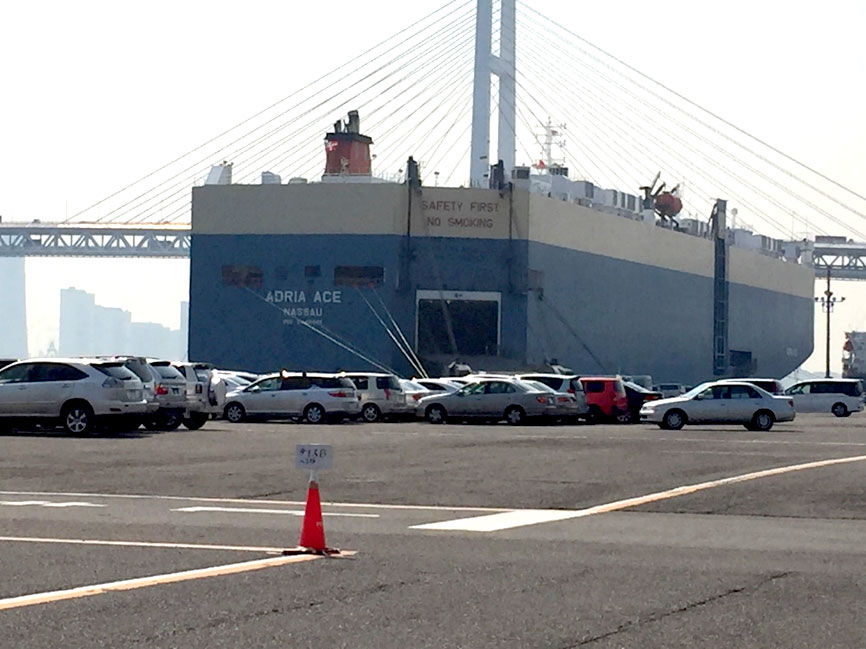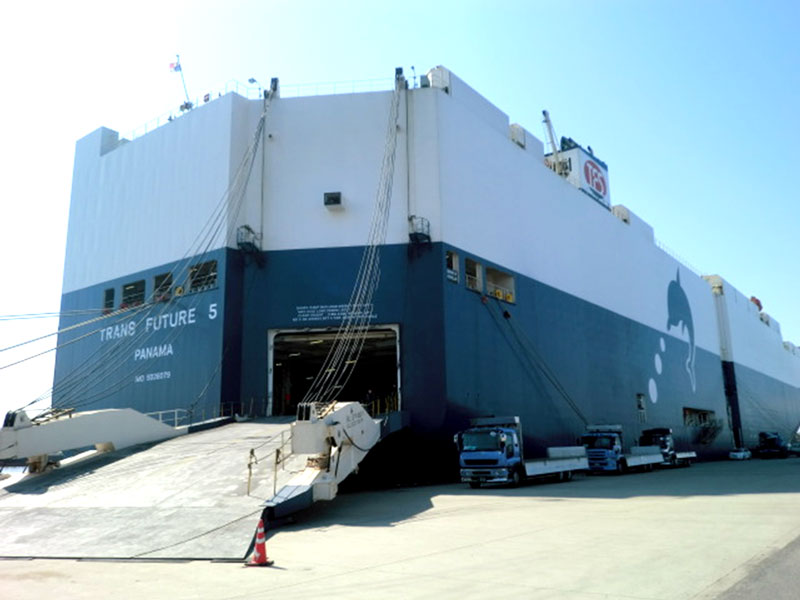 Advantage of Container shipment
Can be packed in bulk in one container.
Ro-Ro is done & paid 1 by 1.
Up to 6 cars can be packed in 1 container.
Suits for running A Used or New car dealer at your place.
Can be delivered to almost everywhere in the World !
Container shipment will be going to almost any port of any country.
Suits to places with no Ro-Ro shipment.
Appropriate to countries without sea access (enclave), such as Mongolia, thanks to delivery by truck or train from a sea port.
Great care is taken to safely load your car !!
Have you got any experience of having some parts of your cars stolen or damaged when you ship out by Ro-Ro?
Every container is sealed, so you don't have to worry for such matter anymore.
We strongly recommend to ship your precious cars by container.
Cost of Container shipment ?
Cost of Container is normally including 1 Ocean freight >>> Depending on destination, please contact for detail.
Terminal handling charge ( THC ) >>> Between $300-$600 per container, please contact for detail.
Documentation fee >>> $30-$50
Seal fee>>> $10 or less
Vanning charge>>> This is packing fee, depend on how and how many.
For Vanning charge, please check below for how would you like to load. Once decided how to or even before, contact our container service section for more detail.
Other types of container Vanning plan
Usually we manage to fit multiple vehicles an a 40ft Container depending on the sizes/dimensions of the vehicles. Below are vanning plans we have done before.

Detailed plan by type of vehicle
Here is a simple plan by tupe of car if you could check the type of cars you are willing to ship out, you can find the best way for your case !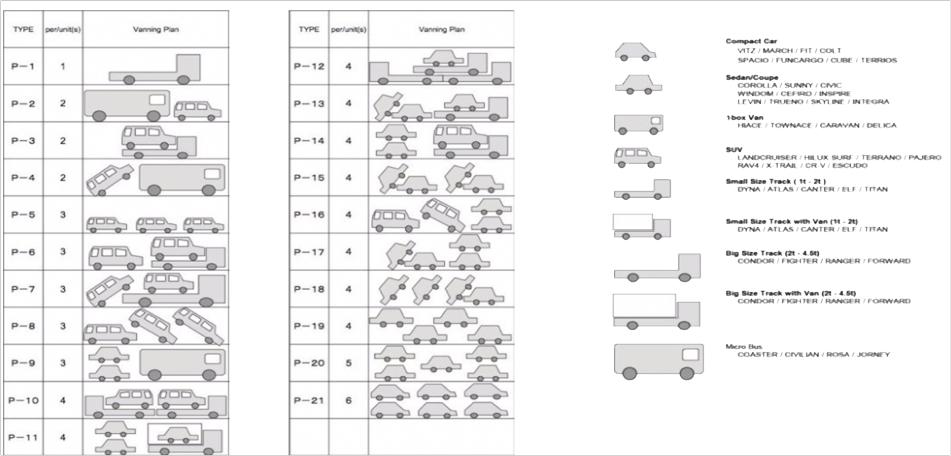 How to Calculate cost of container shipping ?
Total cost of container shipping goes like this:
Freight charges will be changed from time to time. Please make sure with our Logistic section for detail.

EX: Cost calculation per unit
| | |
| --- | --- |
| Freight charge per unit : | $750 |
| Terminal handling charge : | $150 |
| Documentation charge : | $10 |
| Total per unit : | $910 |